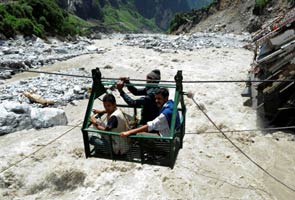 Dehradun:
Surrounded by relatives in Jaipur, 21-year-old Nitin Khandelwal has never felt more alone. He is still waiting for some news of his parents, missing for a month since massive floods destroyed the Kedarnath and Badrinath shrines in Uttarakhand and left thousands dead or homeless.
Nitin, an only child, refuses to accept that his parents may never return.
"The government should mount one last rescue effort and see - maybe people are still stuck in the far reaches of the hills, waiting to be rescued," he pleaded.
But for thousands of grieving families hoping for some closure, the Uttarakhand government's statement on missing persons has brought more confusion.
Uttarakhand Chief Minister Vijay Bahuguna told reporters today: "Over 5,700 people still missing from 18 states will now be presumed dead so that their families can be given Rs 5 lakh compensation. But we will not give any death certificates. The search for the missing will continue."
The chief minister said if the missing persons were found, their families would have to return the money.
The Uttarakhand government had earlier said, those not found by July 15 would be declared dead.
Missing or dead - Bahuguna's latest statement has left his own administration confused.
Rakesh Tiwari, the sub divisional magistrate (SDM) of Ukhimath, one of Uttarakhand's worst-hit areas, told NDTV: "The chief minister has said that the missing will be declared dead, so their families can be given compensation."
His comment was echoed by other state functionaries who were responding to their chief minister's statement.
There were some angry reactions after the chief minister's statement.
"I don't want any monetary relief. I want my parents back with me. The state government can take money from us," said Sunil, who has been camping in Dehradun for weeks.
Uttar Pradesh has the maximum number of missing people - at least 2,000. Madhya Pradesh comes second with a little over 1,000 people missing.
Several others are missing from the states of Rajasthan, Delhi, Maharashtra, Gujarat and Haryana.
In Uttarakhand, the majority of deaths took place between Kedarnath and Gaurikund, the site of one of India's holiest pilgrimages, an official told NDTV.