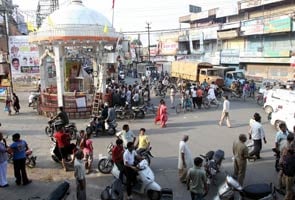 Lucknow:
The Uttar Pradesh government late on Sunday released a Rs.7 crore financial package for riot victims in Muzaffarnagar and nearby areas, an official said.
The financial aid would be used to give compensation for the losses to immovable and movable properties during the communal violence.
The benefit will be given to 1,054 people who have already been identified by district authorities.
An assessment of damage to property and vehicles in Baghpat, Meerut, Shamli and Muzaffarnagar has already been done by teams of officials from the revenue, public works department and technical experts, a state government spokesman told IANS.
"After a close scrutiny of the extent of damage assessed by these teams that the financial package of Rs.6.84 crore has been disbursed," the spokesman added.
Officer on special duty to the communal control cell, Ashok Kumar Singh, said the state government had decided to give at par compensation to the losses.
A person who has lost property or immovable property between Rs.25,000-Rs.50,000 would be given Rs.50,000 as compensation by the state government and so on, Singh said.
The August-September communal violence in Muzaffarnagar killed nearly 50 people and displaced more than 45,000. Communal clashes erupted in Muzaffarnagar on September 7 after simmering discontent over a molestation case on August 27 which subsequently led to three people being killed in a clash.