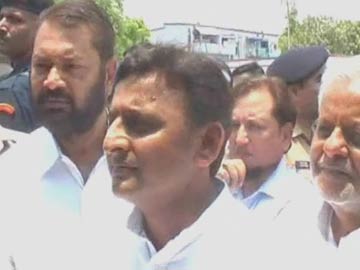 Lucknow:
Under attack from all quarters over gang rape and killing of two teenage girls in Badaun district, UP CM Akhilesh Yadav today directed authorities to launch a helpline in every district of the state to deal with women harassment complaints.
"The helpline would be monitored by the SSPs and SPs themselves," the Chief Minister said while issuing a directive to this effect to authorities concerned.
He said that inquiries into the complaints of harassment made by women must be ensured through women cell, which will also be overseen by the SSPs and SPs of the districts concerned.
Akhilesh Yadav said the state government was committed to maintain dignity of women and provide them all type of security.
The CM said, "In rape cases, adequate security must be provided to the victim and her family and if any attempt is made to harass or threaten them by any person then action under National Security Act should be ensured."
Talking strictly, the CM directed the district magistrates and police chiefs to rush to the spot as soon as they receive information of any rape and ensure effective action.
"Rape is an inhuman and gruesome crime therefore it should be ensured that such cases were send to fast-track court for speedy justice," Mr Yadav said, adding that these cases must be monitored by the district magistrates themselves.
Get Breaking news, live coverage, and Latest News from India and around the world on NDTV.com. Catch all the Live TV action on NDTV 24x7 and NDTV India. Like us on Facebook or follow us on Twitter and Instagram for latest news and live news updates.