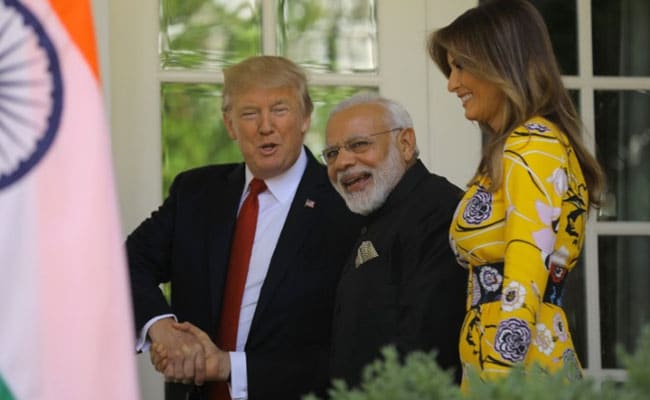 Washington DC:
Prime Minister Narendra Modi was scheduled to visit the US much earlier, but it had to be postponed due to the state assembly elections, President Donald Trump has said. The US President and First Lady Melania Trump had hosted PM Modi for dinner last night - the first for a foreign dignitary in his administration.
"You know, the prime minister was going to come here at a different time, but we worked out this time because they had elections in a section of India... And it's just a small section," President Trump said at the dinner.
His next comment indicated that he was referring to Uttar Pradesh. "But we said, it's the seventh largest country in the world, that small section of India. So I said, you know what, this is a better day. But it is great to have you," he added.
The Prime Minister responded by saying the "icing on the cake" was that in those elections, "our party won". "After many years, we've got three-fourth majority in the state assembly," PM Modi said.
"You won by a lot," Trump said, lauding it as a "fantastic" victory.
The BJP had swept the elections held in Uttar Pradesh earlier this year - winning 312 of the state's 403 seats. The election was seen as a bellweather for the 2019 general elections and an endorsement to PM Modi's stewardship of the economy.
Asked later about the change in schedule, Foreign Secretary S Jaishankar said the dates of the visit were never formal.
"As you know, the Prime Minister was too busy with the elections," he said. "It was a question of planning the trip between our friends and timed with a common calendar. It happened on June 26. If it was convenient, it could have happened a week before or a week later. I think it was nothing other than convenience," he said.
PM Modi just concluded his three-day visit to the US, where he met President Trump yesterday for a series of bilaterals. "We talked about terrorism, extremism and radicalisation and agreed to cooperate on this," PM Modi had said after the meetings.
During his visit, the US Department of State declared Syed Salahuddin, chief of terror group Hizbul Mujahideen a Specially Designated Global Terrorist. The US has also cleared the $2 billion deal to sell predator Guardian drones to India.