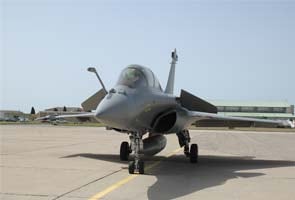 Washington:
The United States has already made "tremendous progress" in expanding weapons sales to India since 2008, and US companies could see "billions of dollars" in additional sales in coming years, a senior US State Department official said Thursday.
Andrew Shapiro, assistant secretary of state for political-military affairs, said US sales of military equipment to India had grown from zero in 2008 to around $8 billion, despite a decision by India to choose a French-built plane in a closely-watched fighter plane competition.
"While that fighter competition loss was disappointing, we have made tremendous progress in the defense trade relationship," he told a news briefing. "There's going to be billions of dollars more in the next couple of years."
He said a major arms trade initiative headed by Deputy Defense Secretary Ashton Carter was making good progress and should lead to "an ever greater pace of additional defense trade." He gave no details on future possible arms sales.
US weapons makers including Lockheed Martin Corp, Boeing Co, Raytheon Co and others, are keen to sale their wares to India, the world's largest arms importer, especially since US military spending is now declining after a decade of sharp growth fueled by the wars in Iraq and Afghanistan. India plans to spend about $100 billion over the next decade upgrading its mostly Soviet-era military hardware.
Shapiro, who is due to leave the State Department at the end of this week, said he had seen news reports about delays in India's talks with France's Dassault Aviation about a $15 billion purchase of 126 Rafale fighter jets.
But he said the US State Department had not received word from India that it planned to reopen that competition or move ahead with a separate Indian naval fighter competition.
Lockheed and Boeing were eliminated from the Indian fighter competition in April 2011.
Shapiro said the State Department was seeing continued demand for US weaponry from the Middle East and Asia, but US companies faced stiff competition from European weapons makers, who are also facing declining demand in their home markets.
He declined to discuss any specific arms sales, but noted that Singapore, Indonesia, and Australia had been key partners in defense trade in recent years. South Korea is also expected to announce the winner of its 60-fighter competition soon.
Shapiro said his office had dramatically increased its advocacy for US weapons makers under former Secretary of State Hillary Clinton, and her successor, John Kerry, planned to continue the "economic diplomacy" initiative.
Shapiro said State Department representatives planned to attend a major air show in Paris in June, despite mandatory budget cuts required under a process known as sequestration, but said officials would have to be conservative about the number of air shows they attended.
He said sequestration-related furloughs could also slow the Pentagon's work on export license requests, which threatened to slow or reverse progress made by the State Department in accelerating work on the licenses to 17 days on average now from 40 to 60 days several years ago.
"Those processing times are likely to increase at a time when we're trying to increase our defense trade. That's not the best signal to send," Shapiro said.
© Thomson Reuters 2013