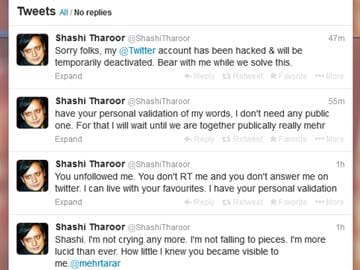 New Delhi:
What began on Wednesday as a curious set of tweets purportedly from union minister Shashi Tharoor to a Pakistani journalist and was soon followed by a disclaimer that his Twitter account had been hacked, has turned into a full-scale war on the social media site.
It is mainly being waged purportedly by Mr Tharoor's wife Sunanda Pushkar, who has in several tweets this morning and last evening alleged that the journalist, Mehr Tarar, has been "stalking my husband."
In a tweet addressed to Ms Tarar today, Ms Pushkar says, "leave us Indians alone and stop talking to my huband and pleading with him its digrading respect youself as a women. (sic)"
She also tweeted, "indians who have dignity unfollow her or are there no ppl in pakistan who R desperate 4 husbands of other women SHAME. (sic)"
Ms Tarar responded this morning, also on Twitter, "I have nothing to say to a woman clearly out of her mind. To be called an ISI agent, a stalker..I have nothing to add. Just shows who she is."
Last evening, Mr Tharoor, who has more than two million followers on Twitter, tweeted, "Sorry folks, my @Twitter account has been hacked & will be temporarily deactivated. Bear with me while we solve this."
Just before that, a number of tweets had been sent from his account, mostly addressed to Ms Tarar, that clearly caught her by surprise and had Twitter abuzz.
"Okay. What's going on? Who's tweeting to me? I had an 'affair' with Shashi Tharoor and he's tweeting to me??? How does that work?" Ms Tarar tweeted.
And then, "I know Shashi T& respect him greatly. Hv tweeted/written abt it openly.Feel awful abt wht's being tweeted. Maybe @TwitterIndia shld check?"
Sunanda Pushkar had meanwhile tweeted, "I am sending @mehrtars bbbm msgs to the works to see what a horrible woman she is and how she iis stalking my husband."
She was also quoted by at least two newspapers as having admitted that she had sent the messages to Ms Tarar from her husband's account. She was quoted as alleging that these were messages sent by the Pakistani journalist to Mr Tharoor on Blackberry Messenger or BBM.