New Delhi:
Highlights
AIADMK faction led by EPS, OPS approved as 'real' party by election body
Setback for Sasikala, Dhinakaran, they had challenged merger
AIADMK had plunged into crisis after death of Jayalalithaa last year
In a setback to the jailed VK Sasikala and her nephew TTV Dinakaran, the united AIADMK under O Panneerselvam (OPS) and Tamil Nadu Chief Minister E Palaniswami (EPS) has been recognized as the "real" party and granted
use of the two-leaves symbol by the Election Commission
.
Mr Dinakaran, sidelined along with his aunt as a result of the OPS-EPS merger in August, had fought hard for the symbol and also control of the party, which has been wracked by feuds amid a leadership crisis since the death of its powerful former chief J Jayalalithaa in December last year.
The Election Commission has rejected TTV Dinakaran's claim saying he "doesn't enjoy support in the party." Mr Dinakaran, who claims he has the support of 18 lawmakers and many others in the AIADMK, said he will appeal in the Supreme Court against the poll panel's decision.
The decision comes as a shot in the arm for Tamil Nadu's ruling party ahead of crucial local body elections expected to be announced soon, as it battles internal fissures and wranglings. Also, the Madras High Court has ruled that by-elections must be held before the end of the year for J Jayalalithaa's RK Nagar constituency in Chennai.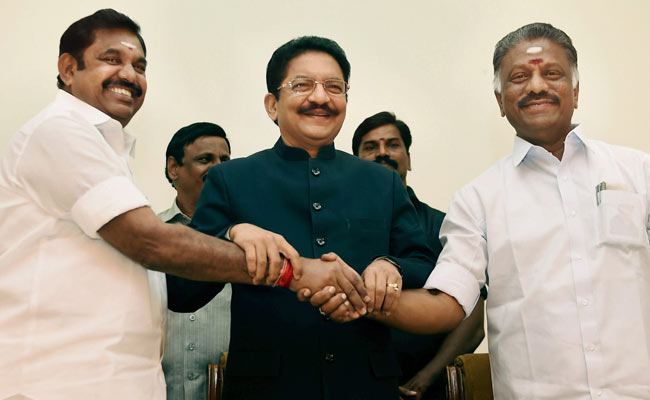 The poll panel had earlier this year frozen the AIADMK's famous symbol as factions led by OPS and EPS claimed it, each saying theirs was the "real party." The commission had said no one could use the symbol in elections till it decided the dispute.
The election for the state legislator or MLA from RK Nagar, which Ms Jayalalithaa represented two times, was to be held in April, but was cancelled after huge amounts of cash were found in Chennai that were allegedly to be used to bribe voters.
Mr Dhinakaran had announced then that he would contest the election as the candidate of the AIADMK.
But EPS and OPS announced their merger
in August after weeks of negotiations, constructing a deal that saw OPS become leader of the united AIADMK, with EPS serving as his deputy, and they reversed roles in the government with Mr Panneerselvam becoming deputy to Chief Minister E Palaniswami. A crucial component of the pact was throwing VK Sasikala and TTV Dhinakaran out of the party, a move that they contest.
Ms Jayalalithaa died while she was Chief Minister, throwing her party into disarray with competing factions arguing over who should be its new leader.
Jayalalithaa's closest friend Sasikala, who took over control of the party after her death, is serving a four-year jail term for corruption. Stopped just before she could take charge as Chief Minister, Sasikala deputed her nephew Dhinakaran as her deputy and her representative in the party.