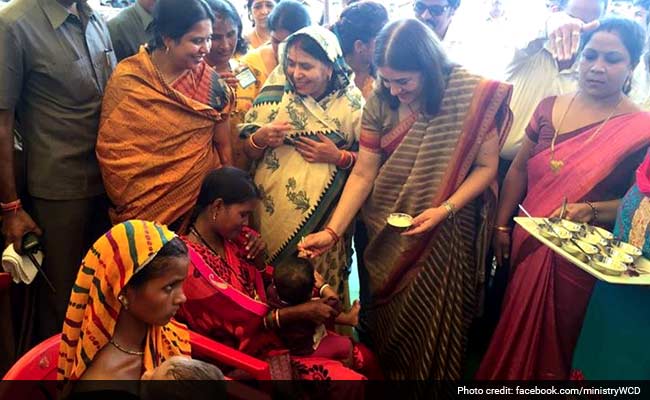 Raipur:
Union Women and Child Welfare Minister Maneka Gandhi today inaugurated a 'One stop Centre' for women who have been victims of various kinds of violence.
Ms Gandhi along with Chhattisgarh Chief Minister Raman Singh launched the Centre, touted as the first of its kind in the country, at the District Hospital premises in Police Line area in Raipur.
Built at a cost of Rs 37.67 lakhs, the Centre will take care of physical and psychological well-being of women who are victims of various kinds of violence.
The victims can seek help by directly walking in or by calling a toll free number.
The victims of rape, dowry harassment and domestic violence will get medical aid and also help in filing FIRs, legal advice and psychological counselling.
It has a five-bed hospital and the victims can stay there for 15 days during their treatment and counselling following which they will be shifted to women rehabilitation centre, if needed.
Earlier, Ms Gandhi visited Nawagaon Panchayat in Abhanpur Development Block and took stock of anganwadi centre and the nutritious diet (ready-to-eat) production centre, besides addressing a mahila panchayat there.
"Malnutrition has become a major problem in the country," Ms Gandhi said to the gathering of women.
There is a growing number of undernourished children due to malnutrition, pregnancy at a lower age, lack of nutritious diet to pregnant women and infants. It is the responsibility of the parents to provide adequate nutrition to children and lactating mothers, she said.
Women should take full advantage of the various schemes, like Sukanya Samrudhi Scheme, Prime Minister's Jan Dhan Yojna, and become economically independent, she added.
The minister appreciated the steps taken by the Raman Singh government to address the problem of malnutrition among children in the state.
She also interacted with the children at anganwadi centres.
Ms Gandhi also visited the Madhuri SHG-run ready-to-eat production centre and spoke to the workers.
State Women and Child Development Minister Ramsheela Sahu and other officials were present during the visit.
Ms Gandhi is on a day-long visit of Raipur during which she will take part in a series of programmes.