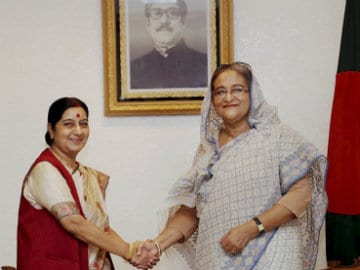 New Delhi:
Ending a 40-year-old dispute, a United Nations tribunal delivered its verdict on Tuesday on India and Bangladesh's maritime boundaries in the Bay of Bengal, awarding nearly four-fifth of the 25,000 sq km of the exclusive economic zone to Bangladesh.
The verdict, binding on both countries, opens the way for Bangladesh to explore for oil and gas in the Bay of Bengal, and ends a dispute over a sea border with India that has ruffled ties between the neighbours.
So has India lost out? NDTV has accessed an internal government of India note that suggests otherwise.
Even though India believes the delimitation has been done in an arbitrary fashion, it is not the loser. Control of the disputed New Moore Island and concomitant access to Hariabhanga river is a significant gain. The island, supposedly rich in oil and natural gas, has been a traditional sore point between the two neighbouring countries.
The Hariabhanga river, which flows around the Sundarbans in West Bengal and borders Satkhira district of Bangladesh, and the region holds twice the amount of hydrocarbons as compared to the Krishna-Godavari basin in Andhra Pradesh.
The verdict is also a good news for the fishermen of both countries who now have access to a larger area for fishing.
Both the governments have called it a win-win situation. "It is the victory of friendship and a win-win situation for the people of Bangladesh and India," Bangladesh's Foreign Minister Abul Hassan Mahmood Ali said on Tuesday after the ruling of the Hague-based Permanent Court of Arbitration (PCA).
"The settlement of the maritime boundary will further enhance mutual understanding and goodwill between India and Bangladesh by bringing to closure a long-pending issue," India's Ministry of External Affairs said in a statement.
Incidentally, Foreign Minister Sushma Swaraj chose Bangladesh as the destination of her first standalone visit, which perhaps goes on to show the importance India attaches to its relationship with Bangladesh.