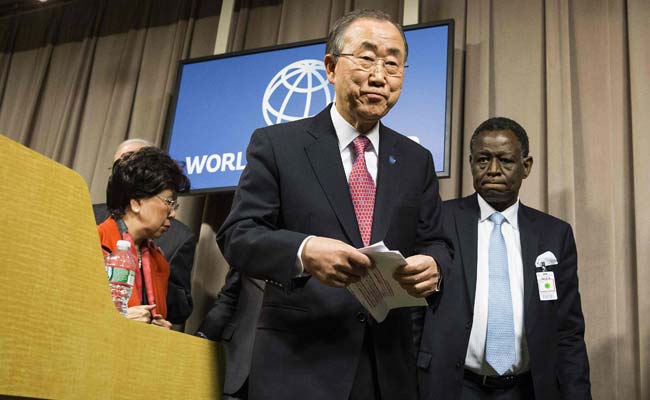 United Nations:
UN chief Ban Ki-moon has called on India, the world's third-largest emitter, to spell out its nationally determined commitment on reducing emissions by June, saying a "constructive" role played by it will make a universal climate agreement possible in Paris next year.
Against the backdrop of significant announcements by the US and China on limiting greenhouse gases, the Secretary General looks to India to also announce its own Intended Nationally Determined Commitment (INDCs) by June next year ahead of the 2015 climate conference in Paris where the new universal treaty on climate change will be adopted.
Environment Minister Prakash Javedkar will represent the country at the ministerial-level at the UN Climate Change Conference in the Peruvian capital, Lima this week.
On the commitment expected from India to rein in its growing emissions, Ban told PTI, "It would be very helpful for India to put forth an Intended Nationally Determined Commitment by June 2015 that is ambitious and appropriate for India's own development path."
"In Lima, I expect countries to agree on the draft text of the Paris agreement and answer key questions on the nature of the commitments that will be made by countries next year. I encourage India to continue playing a key and constructive role that will make a meaningful, universal climate agreement possible next year when countries meet in Paris," Ban said.
Following the US-China announcement last month, Ban had urged "all countries, especially all major economies," to follow Beijing and Washington's lead and announce ambitious post-2020 targets as soon as possible, but no later than the first quarter of 2015.
The UN Chief said while the commitments are to be determined nationally, "I would like to see them be as ambitious as possible, showing the world that countries intend over time to significantly reduce emissions, and perhaps come as close to climate-neutral as possible by the second half of this century.
"Investing in a low-carbon economy makes economic sense, it makes sense for improving health and well-being, and it makes sense to protect the environment," he said in an email interview.