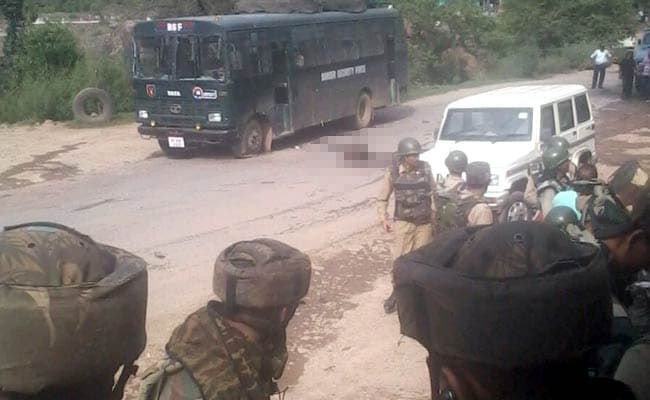 Pakistani terrorist Mohammad Naved's interrogation has revealed that he and his accomplice had orders to strike at a military target on a tactically chosen stretch of the Jammu-Srinagar highway near Udhampur. The terrorists let two convoys pass before finally firing at the Border Security Force bus, sources say.
The place of the attack was chosen with care - it was on a bend on the road and had a gradient to give the terrorists a vantage point.
The two terrorists, Naved and his accomplice Noman, were allegedly given their task just a day before the attack. From the Kashmir Valley, where they had been hiding for over a month, they set off for Udhampur by truck.
After reportedly changing three vehicles and a night halt at Tamatar Morh on the highway, they reached their destination - the Narsoo Nallah point south of Banihal tunnel. It is a route usually taken by Amarnath pilgrims.
The two saw a Central Reserve Police Force (CRPF) convoy and some army vehicles, but did not fire. Sources say the blue colour of the CRPF bus confused them.
On spotting the BSF bus, Naved climbed the hill and started firing while Noman tried to get into the vehicle. The idea was to throw a grenade inside the bus to cause maximum casualties, say sources.
When Noman was killed, Naved fled into the forests, taking three villagers hostage. The unarmed villages managed to overpower him on a hilltop school. They snatched his gun and pinned him down until security forces arrived.
Naved has told interrogators that he entered India 45 days ago, sources have told NDTV.
Investigators believe that he entered in a group of four infiltrators.