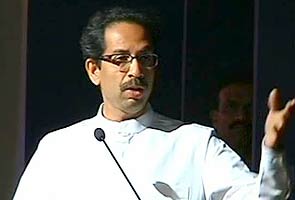 New Delhi:
The Shiv Sena today promised its firm support to the BJP, which it partners in a national alliance, the NDA, but seemed unwilling to acknowledge that Narendra Modi is fast emerging as a frontrunner in his party to be named its candidate for Prime Minister.
Shiv Sena chief Uddhav Thackeray said, "The country needs a reliable face. Can you find one
face who fits? Can you see one? Since we cannot see a clear face, let us elect a strong government."
Asked by reporters who the face of the NDA would be in the elections, Mr Thackeray said, "We have a lot of credible people. Have some patience. We will definitely show you the face."
Mr Thackeray was in the capital to attend a meeting of industry organised by trade body ASSOCHAM.
The Sena chief had recently targeted Mr Modi in two editorials in the Shiv Sena magazine the Saamna, but within hours of the second article being published, had backtracked, explaining that he had not meant to attack the Gujarat Chief Minister who now heads the BJP's election campaign.
Today, Mr Thacekray held an hour-long meeting with senior BJP leader L K Advani, who had last month revolted against Mr Modi's nomination promotion.
The Shiv Sena, a longstanding ally of the BJP, has been seen as having reservations to Mr Modi being projected as presumptive PM because of his proximity to Uddhav's estranged cousin and Maharashtra Navnirman Sena chief Raj Thackeray.
Despite many attempts to bring the warring Thackerays together politically, including some by the BJP, the two remain daggers drawn.