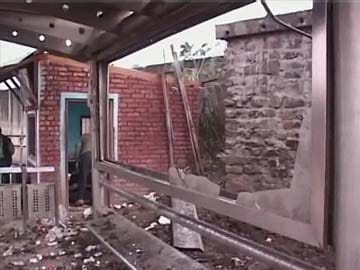 Imphal:
Two persons were killed and four others got seriously injured when a powerful bomb exploded at Yaiskul area in Imphal West district of Manipur this morning, police said.
The bomb, an improvised explosive device (IED), planted near the roadside at Yaiskul bus stand in Imphal to allegedly attack the security personnel, went off at 6.20 am killing one person on the spot, they said.
The condition of the injured who are now in the emergency department of the Regional Institute of Medical Science and Hospital was reported to be 'serious', sources said.
The spot is about one kilometre south of the official residence of Chief Minister Okram Ibobi Singh and Manipur police headquarters which is adjacent to Mr Singh's office-cum-residence, sources said.
Immediately after the incident, senior police officials rushed to the spot and blocked the exit points to launch a search but no arrest could be made, sources said, adding that the bomb might have been planted late last night with a timer.
Today's explosion is the second such incident since yesterday.
Five persons were injured when a powerful bomb exploded yesterday at Imphal market complex, about one kilometre north of Ibobi Singh's residence and the Raj Bhavan.