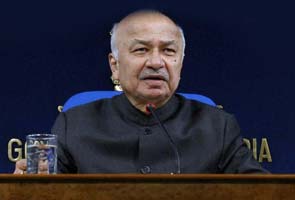 New Delhi:
As India comes to terms with Saturday's shocking attack by Naxals in Chhattisgarh which killed 24 people, including senior state Congress leaders, questions are now being raised over Home Minister Sushil Kumar Shinde's absence from the country.
Mr Shinde, in the US for the Homeland Security Dialogue, has decided to stay back even after the official part of his trip is over. Mr Shinde's official engagements were between May 20 and 22, with an extension till May 24. The Home Minister currently, is reportedly visiting one of his children there, and will be back only on Thursday.
Except the Home Minister, all other members of the Indian delegation who went to the US to take part in the bilateral meetings, have returned home. With Mr Shinde in the US, Finance Minister P Chidambaram, who was Home Minister till last year, is reportedly in regular touch with officials from the Home Ministry.
Not just Mr Shinde, Central Reserve Police Force (CRPF) chief Pranay Sahay is also reportedly on leave. There are over 30,000 personnel of the Central Armed Police Forces deployed in anti-Maoist operations in Chhattisgarh, of which many are from the CRPF.
According to a preliminary government review, the lack of a comprehensive security plan and a neglect of safety procedures had allowed Maoists to execute the attack. A few hours before the attack, area domination exercises were carried out by the CRPF in the vicinity of the Kamanar and Dharba areas, but there was no coordination, sources in the Home Ministry told NDTV.
24 people, including Chhattisgarh Congress chief Nand Kumar Patel and his son Dinesh, senior leader Mahendra Karma, former legislator Uday Mudliyar, were killed and more than 30 others injured in the Maoist ambush in the forested area on May 25. Amongst the injured is former Union minister and Chhattisgarh Congressman, 84-year-old Vidya Charan Shukla.
The attack is now being probed by the elite National Investigation Agency or NIA.