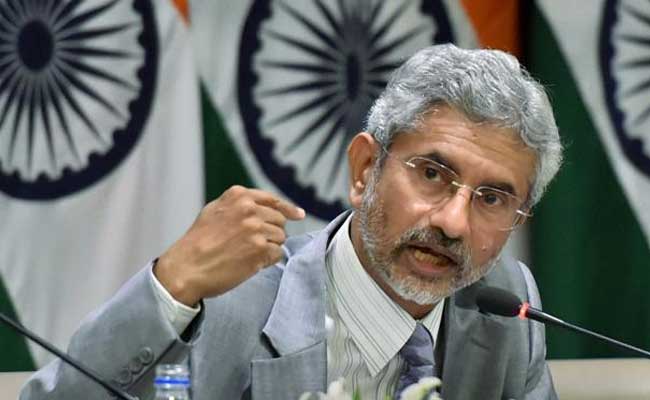 New Delhi:
India today said it has been trying to convince the Chinese government that its ascent is not harmful to China's ascent and that both countries should be sensitive on matters relating to sovereignty. "What we are trying to do is to convince China that our rise is not harmful to China's rise and vice versa," Foreign Secretary S Jaishankar said in an address at the Raisina Dialogue in New Delhi
Chill has set in Sino-India ties following China's opposition to India's membership at the Nuclear Suppliers Group as well as Beijing blocking India's move at the UN to designate Masood Azhar as a global terrorist.
During the interactive session, during which he touched upon a vast array of subjects concerning international relations, Mr Jaishankar said the SAARC has been made "ineffective due to the insecurity of one member".
Identifying terrorism as the most "pervasive and serious challenge" to international security, the Foreign Secretary said developing a serious global response to it is of the highest priority but rued that it is hard to do.
Mr Jaishankar said there has been overall broadening of ties with China, especially in areas of business and people-to-people contact, but they have been overshadowed by differences on certain political issues.
"But it is important for the two countries not to lose sight of the strategic nature of their engagement, or falter in their conviction that their rise can be mutually supportive," he said.
Mr Jaishankar took strong objection to the China-Pakistan Economic Corridor (CPEC) which passes through Pakistan-occupied-Kashmir, saying there should have been some reflection on India's unhappiness over it.
Replying to a question on CPEC, he said both countries should show sensitivity to each other's sovereignty.
"China is a country which is very sensitive on matters concerning its sovereignty. So we would expect that they would have some understanding of other people's sensitivity on their sovereignty," he said.
Mr Jaishankar said the CPEC passes through a "piece of land that we call Pakistan-occupied-Kashmir which is territory belongs to India and which is illegally occupied by Pakistan".
He said the project has been undertaken without consultation with India and that its sensitivity and concerns towards it are natural.
On India's overall ties with China, he said both the countries have opened up significantly since 1945.
"In a sense, both of us, if you step back and look at it, are opening up a very close international order. When people talk about change since 1945, I think two big changes are really India and China.
"I would say if China had not opened up the international order the way it did, I think it would be much harder today for India also to exploit those phases. There is a high degree of shared interests," he said.
On SAARC, in a reference to Pakistan's obstructionist approach, he said, "We hope to partially remedy this through the BBIN (Bangladesh, Bhutan, India, Nepal) sub-regional grouping.
"It is also our expectation that the current level of enthusiasm among members of BIMSTEC can be channelled towards more far-reaching initiatives."
Mr Jaishankar said it is important for India and China not to lose sight of the strategic nature of their engagement, or falter in their conviction that their rise can be mutually supportive.
(This story has not been edited by NDTV staff and is auto-generated from a syndicated feed.)