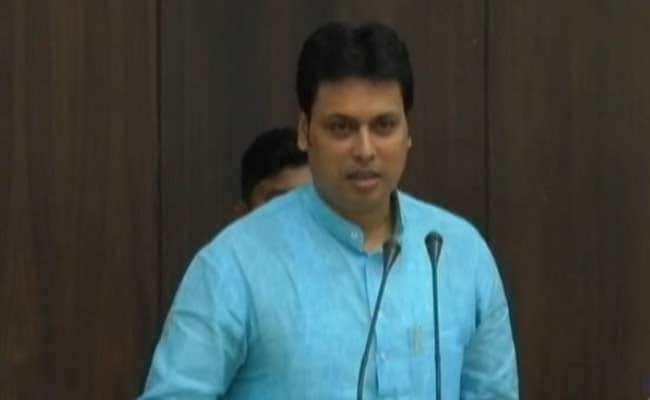 Agartala:
The Indigenous People's Front of Tripura (IPFT), the junior partner of ruling BJP, on Thursday organised a public gathering to spearhead its demands for a separate state and introduction of National Register of Citizens (NRC) in Tripura.
Opposition Congress also on Thursday observed the ''6th Schedule Day'' to mark amendment to the Constitution setting up the Tripura Tribal Areas Autonomous District Council (TTAADC) under the 6th schedule of the Constitution for the all-round socio-economic development of the tribals, comprising one-third of Tripura's four million population.
The IPFT, a tribal based party, has been agitating since 2009 for a separate state to be carved out by upgrading the TTAADC, which has jurisdiction over two-thirds of the state's 10,491 sq km area, home to over 12,16,000 people, mostly tribals.
Ruling BJP, opposition Congress and Communist Party of India-Marxist led Left Front have been strongly opposing the IPFT's statehood demand.
The IPFT, the Indigenous Nationalist Party of Tripura (INPT), the state's oldest tribal based party and few other tribal dominated parties have been demanding introduction of the NRC in Tripura and withdrawal of the Citizenship (Amendment) Bill, 2016, which was introduced in the Lok Sabha in July 2016 to amend the Citizenship Act, 1955.
IPFT President and Revenue Minister Narendra Chandra Debbarma and party's Vice-President Ananta Debbarma though earlier reiterated their demands on many occasions but on Thursday avoided the media to talk on these issues.
The IPFT leaders while addressing the gathering in tribal Kokborok language at TTAADC headquarters in Khumulwng, 25 km north of Agartala, reiterated their demands including creation of separate state and introduction of NRC.
The IPFT forged alliance with the BJP before the February 18 Assembly polls and secured eight seats in the 60-member assembly.
IPFT President Narendra Chandra Debbarma and General Secretary Mevar Kumar Jamatia are cabinet ministers in the nine-member council of ministry headed by Chief Minister Biplab Kumar Deb.
INPT President Bijoy Kumar Hrangkhawal on Thursday separately said they would also organise a demonstration within a week in support of their 3-point demands, including introduction of the NRC in Tripura and withdrawal of the Citizenship (Amendment) Bill, 2016.
Opposing the IPFT separate state demand, the INPT has been demanding more power to the TTAADC which is a constitutional autonomous body first set up in 1982 under the seventh schedule of the constitution and later upgraded in 1985 under the sixth schedule of the constitution.
The Citizenship (Amendment) Bill 2016, introduced in the Lok Sabha in 2016, seeks to enable Hindus, Sikhs, Buddhists, Jains, Parsis and Christians who have fled to India from Pakistan, Afghanistan and Bangladesh without valid travel documents or those whose valid documents expired in recent years to acquire Indian citizenship through the process of naturalisation.
Many parties in the northeastern region are also opposing the Citizenship Bill, which is now under scrutiny of a Joint Parliamentary Committee.