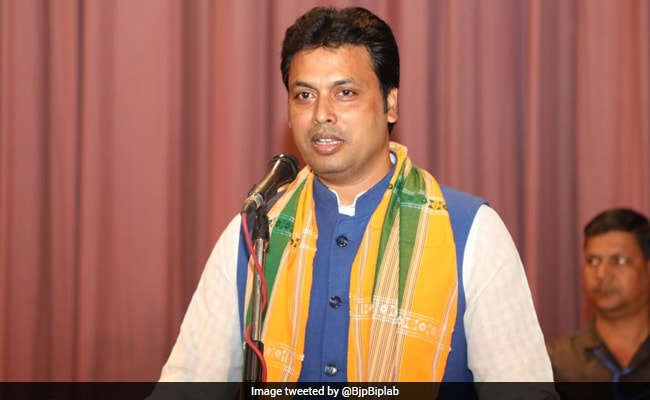 New Delhi / Agartala:
BJP's Biplab Kumar Deb takes oath as the chief minister of Tripura in the state capital, Agartala. In what was seen as an unusual gesture, senior BJP leader Ram Madhav and the Chief-Minister elect Biplab Deb visited the CPM party office to invite the former chief minister and CPI(M) leader Manik Sarkar whose 20-year reign in Tripura ended with the BJP winning 35 of the 60 seats in Tripura.
Prime Minister Narendra Modi, BJP Chief Amit Shah, and a host of BJP chief ministers across the country are among those who attended the grand ceremony. However, the Left Front leaders had said they will boycott the ceremony in protest against "large scare violence" in the state after the assembly elections that was held last month. However, outgoing chief minister Manik Sarkar attended the ceremony.
48-year-old Tripura BJP chief Biplab Deb spent 15 years away from Tripura, training under top RSS leaders in Delhi, before he was sent to Tripura in 2016. Outgoing Chief Minister Manik Sarkar will move to his new residence -- the CPI(M) state committee office today.
Here are the LIVE updates of Biplab Deb's swearing in ceremony as Tripura's chief minsiter: