Agartala:
Biplab Kumar Deb, known to his supporters as the "Big B" of Agartala
, was sworn in as Tripura's Chief Minister today.
In the kitchen of his modest rented apartment in the Tripura capital, the 48-year-old BJP leader digs into his rice and
dal
brunch as he speaks to NDTV.
"All these people coming to see me. They are my inspiration. I get my energy from them. I get my
dal roti
from them," says Biplab Deb, who has been given top billing by his party in its spectacular victory in Tripura.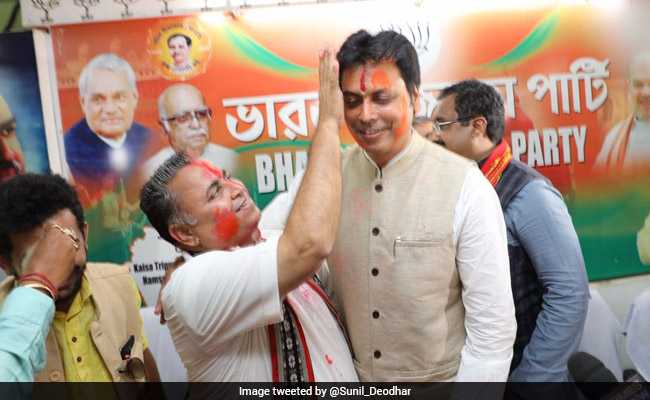 The BJP last week defeated the Left, which ruled the northeastern state unchallenged for 25 years.
Biplab Deb and his wife Niti Deb, a banker from Punjab who works in Delhi, have a young son and a daughter.
Born and raised in Tripura, Mr Deb inherited his father's deep interest in the RSS or Rashtriya Swayamsevak Sangh - the ideological mentor of the BJP. After college, he went to Delhi and trained under top RSS leaders for 15 years. Two years ago, his party sent him back to Tripura as its state chief. He was tasked with building a base for the RSS and the BJP in one of the strongest Left bastions in the country, mentored by Sunil Deodhar.
He was viewed as the best bet to take on Manik Sarkar, famously India's "poorest chief minister", who was Chief Minister for 20 years.
"I love the people of Tripura. I have great respect for the Communists and Manik Sarkar but I feel sad that they got so much time but did not utilise the natural resources of the state to develop it. They will have to answer to god for this failure. The people have already given their verdict," Mr Deb said.
For his family, it's a big change to get used to. The Debs have been forced to spend long periods apart.
"We are extremely happy that our family head has now become the guardian of the entire state. It is divine blessing," wife Niti Deb told NDTV.
His son Aryan Deb, appearing for the crucial Class 10 board exams this year, says the long years of living away from his father were difficult, but worth it in the end.
"We used to feel sad that papa was away from us. Now we feel we have been rewarded for this sacrifice," Aryan said.
Get the latest election news, live updates and election schedule for Lok Sabha Elections 2019 on ndtv.com/elections. Like us on Facebook or follow us on Twitter and Instagram for updates from each of the 543 parliamentary seats for the 2019 Indian general elections.