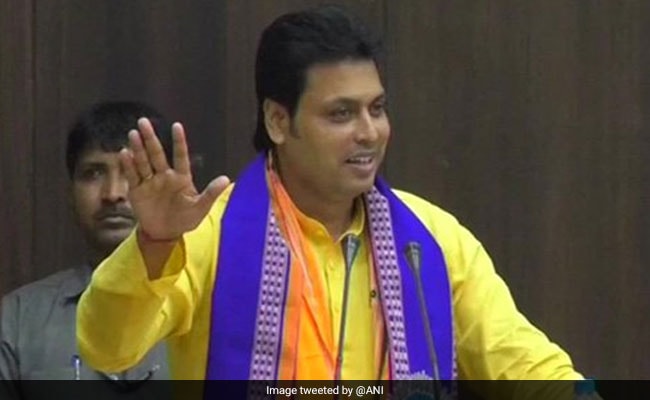 Agartala:
Tripura Chief Minister Biplab Kumar Deb has written a Hindi biography of the states erstwhile King Bir Bikram Kishore Debbarma Manikya Bahadur, which will be published soon, an official said today.
The book was scheduled to be released by Prime Minister Narendra Modi and Party chief Amit Shah at the National executive of the party in New Delhi on August 19, but it was postponed, the chief ministers Media Advisor Sanjoy Mishra told news agency PTI.
"Now we are looking for a suitable date from the prime minister and other dignitaries for launching the book," Sanjoy Mishra said.
August 19, 2018 was the 110th birth anniversary of the King who is known as the architect of modern Tripura and a respected figure in the state.
Biplab Kumar Deb released a gold coin on his 110th birth anniversary.
The King died in 1947, two years before Tripura merged with the Indian Union on October 15, 1949.
The book is about the good governance provided by the King and how he ruled the state and led to its development and prosperity, Sanjoy Mishra said.
It also mentioned about the relation of the princely state with the then British rulers.
The book also tells about how the King became the face of the North-East, his foreign tours and his vision about the region, Sanjoy Mishra added.
The book's Bengali version is being translated.
The BJP made a poll pledge that it would name the Agartala airport after the name of the King after it came to power in the state.
The King first built the airport in 1942, which is now the second busiest airport after Guwahati in the north eastern region.
On recommendation of the Tripura government, the union cabinet has recently decided to name the airport after him.
The Tripura kings were the rulers in hill Tripura and at the same time were also the land lords (Zamindars) in parts of the then East Bengal.
The Manikya kings had offered incentives to his Bengali subjects to settle down in Tripura for agricultural use of wetlands.
Bir Bikram reserved almost two third of the state territory for the aboriginal tribes of the state in 1939, which was the precursor to the present Tripura Tribal Areas Autonomous District Council (TTAADC), the home to the tribals, who constitute one third of the state population.