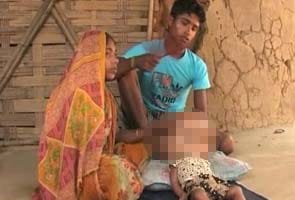 New Delhi:
There is hope for the parents of 18-month-old Runa Begum. Their child, who has been suffering from a medical condition that has seen her head swell to more than double its normal size, is now under the care of a top private hospital in Gurgaon, near Delhi.
The doctors say they will monitor her health for the next 10 days and will take a call on surgery after that.
Runa belongs to a remote village in Tripura and suffers from hydrocephalus - a disorder which causes cerebrospinal fluid to build up on the brain - which has resulted in her head swelling to a circumference of 91-centimetres (36-inches). The swelling is putting pressure on her brain and has made it impossible for her to sit upright or crawl on the ground.
After Runa's plight came to light last week, local doctors advised the family to take her to a big city for treatment. But the costs were too high for her father Rahman, a labourer who earns Rs 150 a day working in a brick plant.
Gurgaon's Fortis Hospital then stepped in, ensuring free treatment for her. She was flown in on Tuesday.
"The current status of the baby girl is stable, she is eating well, she sometimes cries also. In the past we have seen patients with congenital hydrocephalus but we have not seen this big a head before. Her head is unusually big and its circumference is 94 centimetres," said Dr Sandeep Vaishya, neurosurgeon, Fortis Hospital.
But the road ahead is not easy.
"We will put a shunt inside her head, which is a kind of a tube that will drain the fluid and drop it in the abdominal cavity. But we will face a lot of challenges because the amount of fluid in this case would be a lot and there is a risk of fluid overload in the body. So we will be doing a programmable shunt so that the fluid can be drained slowly," said Dr Vaishya.
For now though, Runa's family, and doctors treating her, are praying that her scheduled surgery goes off well.