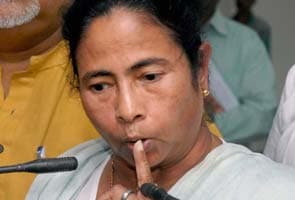 Rampurhat, West Bengal:
Trinamool Congress supremo and West Bengal Chief Minister Mamata Banerjee on Friday said her party would never support BJP leader Narendra Modi.
"We do not support Narendra Modi, nor will we support him (in future)," she told a panchayat election rally at Rampurhat in Birbhum district.
Hitting out at Congress-led UPA, Ms Banerjee said, "UPA has been ruling for 10 years but during this time they did not mention anything about Narendra Modi. Now when the election time is round-the-corner, they are attacking him... Congress and BJP are engaged in a game of compromise."
The Trinamool leader, who had on Thursday described BJP and Congress as two faces of the the same coin, alleged CPI(M) has also played "such game (of compromise)" to reap votes.
She said CPI(M) had "used Gujarat riot victim Qutubuddin Ansari by bringing him to Kolkata to derive political benefits, only to dump him later".
Highlighting the schemes initiated for upliftment of Muslims in the state, Ms Banerjee said her government has increased allocation for the minorities department by 73 per cent in the state budget for the current financial year.
Muslims comprise 26 per cent of the electorate of West Bengal.
Ms Banerjee also criticised the Centre's decision to hike FDI limits in a host of areas including telecom, insurance and defence.
"By increasing FDI in defence, we are compromising safety and security of the nation," she said.