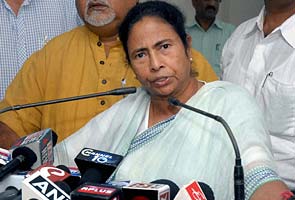 New Delhi:
Accusing the UPA government of step-motherly treatment to West Bengal, Trinamool Congress (TMC) today demanded a financial package for the state, including a moratorium on interest payment on its Rs 2 lakh crore debt.
TMC MPs asked Finance Minister P Chidambaram for a three-year moratorium or exemption from payment of about Rs 20,000 crore a month towards servicing the debt West Bengal has.
Accusing the Centre of showing step-motherly attitude towards the debt-ridden state, 24 party MPs, led by its Chief Whip in Lok Sabha Sudip Bandyopadhyay, staged a small protest in front of Mr Chidambaram's office before proceeding to a scheduled meeting with the Finance Minister.
Emerging from the meeting, that lasted for more than 45 minutes, Mr Bandypopadhyay said: "We have asked for a debt restructuring plan and a moratorium on interest repayment obligations for a minimum period of three years extendable to five years."
"Chidambaram has promised us to discuss the matter with Prime Minister Manmohan Singh. If the matter is not resolved immediately, we will go for a bigger protest," he said.
However, when asked whether the delegation was hoping for resolution of the matter, he said: "You cannot have any hope from this government."
The long-pending demand of the Mamata Banerjee-led West Bengal Government, which has been facing financial problems mainly because of the huge interest outgo, has so far fallen on deaf ears. The present government accuses the previous Left Front rule for the current financial mess.
As it came into power in 2011, the new government was obliged to service the debt by repaying the principal and the interest component to the tune of Rs 20,000 crore per month, which constitutes almost one-third of the state's non-plan expenditure.
"The non-availability of development resources has led West Bengal to be categorised as the lowest amidst the general category state, with respect to development expenditure," All India Trinamool Congress Parliamentary Party Chairman Mukul Roy said in a memorandum presented to the Finance Minister.
"We have repeatedly demanded these, but in vain. Centre has not given us any assurance so far. However, we are not roaming with a begging bowl. The demand is legitimate and we should have it. We had a long meeting. Finance Secretary was also there," Mr Bandyopadhyay said.
To a question on the Raghuram Rajan Committee Report on re-indexing of states, in which West Bengal has been placed at a better place and thus stands to lose some funds from the Centre, Mr Bandyopadhyay said: "Finance Minister has assured us that this report has not been accepted. It has just been put up on the website."