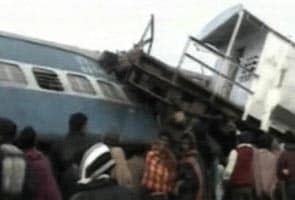 Sahibganj, Jharkhand:
Five persons were killed and nine others including a three-year-old child injured today in a collision between the New Delhi-bound Bramhaputra Mail and a goods train at Karonpuroto, about 25 kilometres from Sahibganj in Jharkhand.
The accident occurred at 5.50 AM when the train was on its way to New Delhi from Dibrugarh.
The Brahmaputra Mail was passing through Karonpuroto station under Malda Division of Eastern Railway when a stationary goods train started rolling back and hit it, sources said. The impact of the collision caused the guard cabin of the goods train to mount the S-9 coach of Brahmaputra Mail, the sources said.
Six railway employees including the driver, the assistant driver and the guard of the goods train have been suspended for alleged negligence.
The Loco inspector of Sahibganj in Jharkhand where the mishap took place, the on-duty assistant station master and porter of Karanpurato station have also been suspended, Eastern Railway sources said in Kolkata.
The goods train was on the main line since midnight due to a technical problem in its engine, the sources said.
North East Frontier Railway's Chief Public Relations Officer (CPRO) S Hajong said that the deceased have been identified as Bijoy Roy of 4th Battalion of Assam Rifles, Girija Devi of Barharwa, Dinesh Mahaldar, Narendra and an unidentified youth aged around 25 years.
The injured have been identified as three-year-old Shabnam, Jamil Khatoon, Kunj Behari, Siddi, Saloo Miyan, Jakir Hussain, Naresh Kumar Yadav, Satish Kumar and Tushar Yadav.
Condoling the loss of lives in the mishap, Railway Minister Dinesh Trivedi announced a compensation of Rs. 5 lakh each for those killed and Rs. 50,000 for those seriously injured. Passengers, who have received simple injuries, will get a compensation of Rs. 10,000.
Railway spokesperson Anil Saxena said that the Manager of the Malda Division was at the site along with other senior officials. "They are all focusing on relief and rescue operations. Railway Board in Delhi is taking stock of the entire accident and once the relief and rescue operations are over and the investigation done, if somebody is found responsible or careless, stern action will be taken against that railway employee," he said.
A railway official in Sahibganj said that an engine was attached to the nine rear coaches of the train after detaching them from the front coaches, and sent to Malda station in West Bengal. The train later left for New Delhi.