Agra:
An
attack on two Swiss tourists
near Agra last month sparked worries about the safety of foreign travellers visiting the city. Agra attracts over five lakh foreign tourists every year. Tourists visiting Agra this month did not complain of feeling unsafe, but they continue to be hounded by selfie requests, salespersons and auto drivers.
"People are taking pictures of us without even asking us," said 14-year-old Matthieu, who was travelling with a school group from France. "It's weird, and it's been disturbing for all of us."
While visiting the Taj Mahal, Stuart and Caitlin from Scotland received over 50 selfie requests.
"A large crowd gathered and there were about 30 people, all wanted pictures," said Caitlyn. "After taking about twenty photos we said sorry, we do need to go, sorry!"
The Indian tourists asking for photos had an explanation.
"We'll go to the village and show people that foreigners look like this," said a man from Rajasthan, soon after asking two women from Germany and Italy for a photo with his son. "Of course I wouldn't take a photo without their permission, we ask politely."
Another young man didn't bother asking, directing his friends to sit alongside a group of Spanish women so he could take photos with them. "We show our friend circle that we went on a trip, we met foreigners," he said.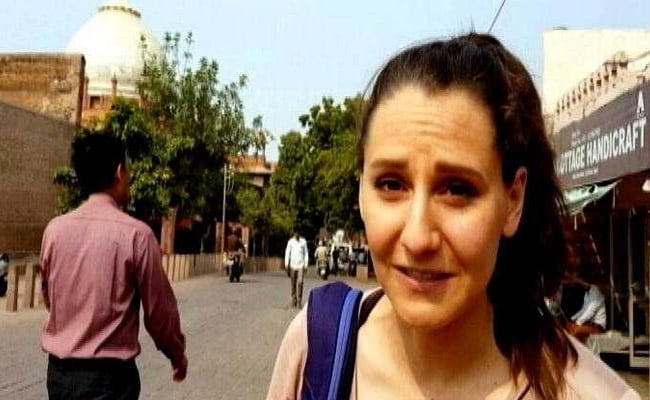 Foreign tourists are incessantly subjected to sales pitches, which tourists say can be annoying at best and threatening at worst.
"In Agra, the most annoying thing has been the shops and the tuk-tuk drivers constantly trying to get you to shop with them," said Madeleine, a 23-year-old British traveller. "They're very persistent, I find that the hardest."
The organised tourism industry blames touts or "lapkas" for the unpleasant or dangerous experiences of foreign tourists.
"There are unorganised backpackers, they want to pick up the arrangements right then and there," said Rajeev Saxena, the secretary of the Agra Tourism Guild. "That's where unauthorised touts come in their contact."
NDTV found local boys without licences approaching tourists in the parking lot of Fatehpur Sikri, who claimed that they can't be arrested because of the presence of contractors. According to Kallan, a guide at Fatehpur Sikri, these boys are touts under the protection of these contractors.
"They cheat tourists, they overcharge them, they misguide them," said Kallan. "Since a week touts have been caught and put in jail. It's a matter of 10-15 days though, it'll revert again."
Get Breaking news, live coverage, and Latest News from India and around the world on NDTV.com. Catch all the Live TV action on NDTV 24x7 and NDTV India. Like us on Facebook or follow us on Twitter and Instagram for latest news and live news updates.