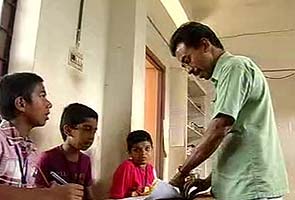 Tributes are pouring in for Abdul Mallik, the teacher in Kerala who swims through a river everyday to get to his students. (
Read
)
Here are 10 great surfer comments (some have been shortened):
1
. "Abdul Malik - If we ever met, I would very much like to shake your hand. It's great people like yourself who should be governing this great country." -
Sheldon
.

2
. "What a great teacher! It makes me cry. May god bless a teacher." -
Ravi
.
3
. "Real GEM......no words to say for his commitment, dedication." -
Gaurav
.
4
.
"
This is amazing. You've set an example for teachers to follow. What most of them preach you are out to practice everyday." -
Gupta
.
5
. "Truly inspirational. He doesn't do it for fame or publicity. That's his job and he's probably the most satisfied guy in the whole world .... We Salute u Sir!" -
Shrivastav
.

6
. "My sincere heartfelt wishes to this teacher, as we couldn't find such person/s anywhere in this World and if so, very few." -
V R Krishnaa
.
7
. "Hats off! No words are enough for such selfless deeds." -
Manjit
.
8
. "Proud of him and wish him a very happy teacher's day! Being a teacher myself, I feel sorry that the most noble profession in the world is not regarded high in India. Happy Teacher's Day to all." -
Swati Saxena
.
9
. "If all the teachers have same dedication and commitment like you Mr Mallik, India will definitely shine." -
Neeraj Gupta
.
10
.
"
Under these current circumstances of corruption and scams, this is truly impressive, God bless you." -
Mohammed Abdul Raheem
.