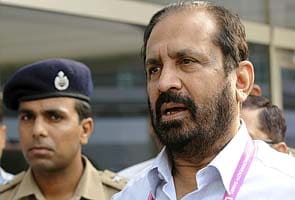 New Delhi:
1) Suresh Kalmadi was given bail by the Delhi High Court today in a corruption case related to the Commonwealth Games. He was arrested on April 26 last year. Mr Kalmadi, an MP from Pune, served as the Chairman of the Organizing Committee of the Commonwealth Games, held in India in October 2010. (Read:
CWG scam: Suresh Kalmadi gets bail, could leave Tihar Jail today
)
2) The Games spawned a maze of corrupt deals, most of them involving inflated contracts. Instead of selecting companies who offered the best prices, equipment and services were hired from firms who over-quoted. Often, companies who offered better deals were disqualified for inexplicable reasons. Investigations suggest the Organizing Committee ran as a sort of 'badmaash company' - many of Mr Kalmadi's closest aides like Lalit Bhanot and V K Verma were also arrested.
3) Why was Mr Kalmadi in jail? He was accused of handing out a Rs 141-crore contract to Swiss Timing for its timing equipment - the deal was inflated by Rs 95 crores. An official recommended the disqualification of a Swedish company, allegedly at Mr Kalmadi's behest, leaving only the Swiss firm in the fray. The Central Bureau of Investigation, which probed the case, filed a chargesheet against Kalmadi in May 2011.
4) Kalmadi's free-fall from grace: Mr Kalmadi, a politician with serious clout in his home town of Pune, may have miscalculated in positioning himself as the face of the Games. His critics put this down to megalomania. Whether or not that is true, Mr Kalmadi's fall from grace began in the run up to the Games, when it became clear that despite busting huge budgets and reassurances of delivering a world-class event, Delhi was far from ready to host the Games. Venues were not ready. Basic equipment had yet to arrive.
5) The international hall of shame: Less than 10 days before athletes were to move into the village built especially for them near the banks of the Yamuna in Delhi, foreign crews were invited to tour the apartments that would house delegates. It was an unforgettable open house. There were dog paw marks on bedsheets. Human waste was lying on bathroom floors, left behind by construction workers. International headlines reported on every humiliating detail.
6) With the Games skidding into catastrophic turf, the Commonwealth international body - named Commonwealth Games Federation - publicly stated its unhappiness with the preps. In October 2009, federation head Michael Fennel announced an independent technical review panel to monitor Delhi's progress. The proposal was shot down by Mr Kalmadi's Organising Committee.
7) Despite the many embarrassments in the run-up the Games, the opening ceremony was hailed as spectacular. The show-stopper was incredible and huge with an aerostat flown in from Australia. But Kalmadi was by now a figure of disrepute for the Indian public which booed him during his speech at this ceremony
8) Call in the troops: As Kalmadi's public stock fell, Delhi Chief Minister Sheila Dikshit was hailed for stepping in with her trademark efficiency to ensure the city played a good host. The army's services were invaluable. A foot overbridge collapsed outside the main venue, Jawaharlal Nehru Stadium just two weeks before the Games; the Army re-built it.
9) Kalmadi refused to accept the blame. At the closing ceremony on October 14, he was heckled again. When he thanked Congress president Sonia Gandhi for her guidance, she was seen publicly shaking her head - a clear sign that Mr Kalmadi's party wanted little more to do with him.
10) Six months later, Mr Kalmadi, once a powerhouse in Pune politics, was sacked as a primary member of the Congress. He remains a Lok Sabha MP.