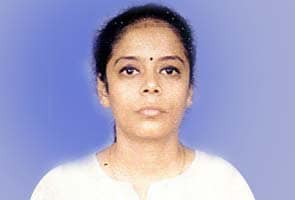 Delhi:
Here is a timeline of the events in the Shivani Bhatnagar murder case:
January 23, 1999:
Shivani Bhatnagar, a correspondent with English daily Indian Express murdered at her East Delhi apartment
July 30, 2002:
Police arrest Sri Bhagwan, son of a former Haryana police officer, who had worked under IPS officer Ravi Kant Sharma
August 2, 2002:
Delhi Police raids R K Sharma's residence at Panchkula in Haryana but is unable to apprehend him. Pradeep Sharma, another alleged conspirator, arrested
August 6, 2002:
Panchkula court rejects R K Sharma's interim bail application
August 7, 2002:
Delhi Police releases R K Sharma's picture and declares a reward of Rs 50,000
August 8, 2002:
R K Sharma's wife Madhu alleges involvement of "an influential person," demands CBI probe
August 12, 2002:
Delhi police gets forensic report on the handwriting and finger prints of one of accused Pradeep Sharma. R K Sharma files bail plea in a Delhi court
August 13, 2002:
R K Sharma's bail plea rejected by a Delhi session's court
August 15, 2002:
R K Sharma's wife Madhu alleges involvement of BJP leader Pramod Mahajan in Shivani's murder. Mahajan refuted allegations and said he shared a purely professional relationship with Shivani.
August 16, 2002:
Delhi Police gives clean chit to Pramod Mahajan.
August 17, 2002:
Police confirm arrest of co-accused Satya Prakash in the case.
August 18, 2002:
Another accused, Ved Prakash Sharma, picked up by police.
August 23, 2002:
R K Sharma suspended from service.
September 9, 2002:
Delhi High Court rejects Sharma's bail plea. Police initiates process of declaring Sharma proclaimed offender (PO).
September 27, 2002:
Sharma surrenders in a court in Ambala, which sends him to judicial custody till October 5. He is later brought to Delhi.
October 8, 2002:
Police claim R K Sharma has confessed killing Shivani; Sharma's counsel files contempt application against the police.
October 25, 2002:
Police file chargesheet in the case, charging all the accused under various Section of the IPC including 302 (murder), 120(B) (conspiracy), 201 (causing disappearance of evidence).
March 3, 2003:
Court frames charges against all accused.
March 20, 2003:
Trial begins in the case as accused plead not guilty and claim trial.
May 14, 2003:
Police claim to have found some sensitive documents from Shivani's flat, corroborating the prosecution's claim that Sharma used to pass classified papers to her
July 8, 2003:
Shivani's sister Sevanti tells court that the scribe had made plans to expose Sharma.
January 22, 2004:
Shivani's husband Rakesh Bhatnagar admits that he knew about the friendship of Sharma with his wife.
January 23, 2006:
Trial of the case shifted to a Fast Track Court.
July 21, 2006:
Supreme Court stays Delhi High Court and trial court order directing the police to furnish its record of case diaries to R K Sharma.
October 9, 2007:
Prosecution claims Shivani intended to expose R K Sharma for offences under the Official Secrets Act.
November 15, 2007:
Prosecution ends arguments.
November 23, 2007:
R K Sharma terms telephone call records "fabricated."
March 5, 2008:
Court declares final arguments closed and fixes March 18 as the date for announcing verdict.
March 18, 2008:
Court convicts suspended IGP R K Sharma along with three other accused for conspiracy to kill Shivani.
October 12, 2011:
Delhi High Court acquits RK Sharma, 2 others.