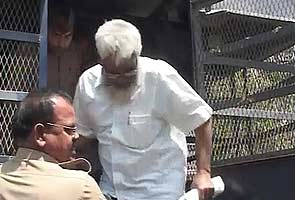 Gonda:
It's a warm April morning. Kinjal Singh is huddled into a heavily-guarded courtroom at the CBI court in Lucknow.
Five years ago, she was a helpless girl who had given up all hope for justice for her father who, the family alleged, was killed in a fake encounter in 1982. Now, she is an Indian Administrative Service (IAS) officer with magisterial powers.
Her mother's failing health almost made the family abandon the cause which they had fought for more than two decades - the fight to get the killers of her father, Deputy Superintendent of Police KP Singh, and 12 other innocent villagers. They were all brutally gunned down in a fake encounter in the Madhopur village of Gonda in Uttar Pradesh.
A killing motivated by the conduct of an honest officer - in this case, Mr Singh - who wanted to act against his subordinates who were hand-in-glove with local criminals.
After 30 long and agonising years, justice has finally prevailed.
Station officer RB Saroj, the main accused and DSP Singh's junior who hatched the conspiracy of the fake encounter, has finally been sentenced to death.
Two other officers, Ramakant Pandey, a serving officer in Jaunpur, and constable Ramkaran have also been sentenced to death.
Five others will now lead a life in prison.
Special Judge Rajendra Singh found this a fitting case - the rarest of rare - and decided that the three cops deserved the death penalty.
A legal battle that was launched in 1984, finally saw closure 29 years later. Despite the Supreme Court's intervention, the trial took almost three decades to finish.
The judgment is exemplary as it is the first time that eight policemen have been found guilty of murder and conspiracy for a fake encounter. The number could have been higher but for ten policemen who have died since.
Ms Singh, now an IAS officer herself, broke down as she was asked to share her thoughts. She later told NDTV that sharing space with the killers of her father was harrowing. She missed her mother who lost a battle to cancer. The young woman had never seen her father, but she finally saw the men who killed him.