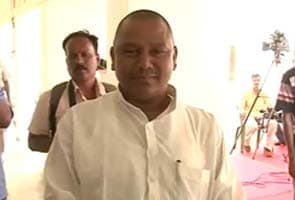 New Delhi:
Srinath Soren is a legislator from Odisha's ruling party, the Biju Janata Dal. He drives an SUV, owns property and gold and even has life insurance. Mr Soren also has a BPL card in his name which declares him a very poor man entitled to subsidised rations.
A Right to Information query brought the anomaly to light. Mr Soren and his family have been on Odisha's list of BPL or people below the poverty line since 1997. The MLA says he has not claimed the card or the benefits it fetches and even says he fears he could be the victim of a ration scam. He told reporters today, "The card No 282925 that has been issued in my name is absolutely incorrect...I am not aware of this and I have never even seen that card. An enquiry will be conducted in this matter. If anybody is found procuring rations in my name, I will take severe action against him."
Mr Soren, who is from a poor tribal family in Mayurbhanj, North Odisha, says his political career made him leave his village in 1997 and he has not returned since. He won his first Assembly election in 2009. He is hard put to explain why he was not removed from the list when it was last updated in 2007-2008 and admits that the government may have been more liberal with including people on the list then since assembly elections were just a year away and politicians often use cheap grain to woo poor voters.
The MLA is also at pains to point out that he is not exactly a rich man now and says he has bought his fancy car on loan.
The Naveen Patnaik-led BJD government has ordered an investigation. Food and Supplies minister Pratap Deb said, "The BPL card which was issued to him was under the survey of 1997-1998...he was a panchayat samiti (village body) member then. When he became an MLA, he should have forfeited it voluntarily and if he did not, the district administration should have noticed it."
The minister said that while Mr Soren might not have derived benefit from the BPL card after becoming an MLA, the government now needed to ensure that no one else was misusing it.
The government describes a person as below the poverty line if his or her income is Rs. 28.65 or lower per capita daily in cities and Rs. 22.42 or lower in rural areas.