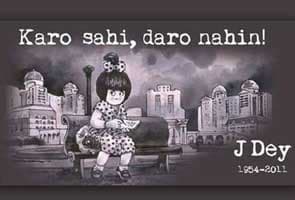 Mumbai:
She's the iconic girl in the familiar polka dotted dress who has just turned fifty. The Amul Girl, for whom no subject is taboo, is now available in a coffee table book. DaCunha Communications, the advertising agency behind the popular hoardings celebrated the moppet's golden jubilee by releasing a coffee table book in Mumbai Monday evening. Amul's India features the most popular advertisements as well as articles by different celebrities who feature in the hoardings, including Amitabh Bachchan and Harsha Bhogle.
The moppet was created in 1966 by cartoonist Eustace Fernandes, who recently passed away. Amul had approached his 'creative buddy' Sylvester daCunha to design a new ad campaign for their butter brand. DaCunha, founder-Chairman of DaCunha Communications and Fernandes created the very first hoarding that said: 'Give us this day our daily bread with Amul Butter'. Since then, the Utterly, Butterly Girl has had her say on current affairs topics and even today, continues to win hearts with her tongue-in-cheek humour. As Sylvester DaCunha says, 'The great thing about Eustace Fernandes' girl is the round face that can be adapted to be anybody. With Manmohan Singh, put a turban on her. It can be Indira Gandhi, give her a white streak. So it's a supremely adaptable creation'.
The coffee book however is not being seen as a mere collector's item. 'It's a library of sorts, isn't it? You see a hoarding, you remember it next week, you remember the one after that. But when it comes together in a book, it becomes a history book, almost', says cricket commentator Harsha Bhogle, whose article also features in Amul's India.
The most difficult part for people is choosing their favourite advertisement. Mr Rahul DaCunha, Managing Director and Creative Head, DaCunha Communications says 'My favourite one used politics - Narasimha Rao, VP Singh and Mrs Gandhi, but it also used a Hindi film reference. And India loves 2 things - politics and movies. So that was a good one'
In a country where political leaders have raised furore over cartoons in text books, the Amul Girl has not just remained largely unscathed, but also thrived. As Mr Rahul DaCunha says, 'There are controversies, but finally we live in a free country. And you can get away with stuff. I think if you go too much overboard, it's always tricky. So we try and keep it little bit under'
Half a century later, the moppet continues to peer down billboards and the coffee table book is being seen as a new stepping stone, one that evokes nostalgia and yet pays tribute to one of India's most loved mascots.
Get Breaking news, live coverage, and Latest News from India and around the world on NDTV.com. Catch all the Live TV action on NDTV 24x7 and NDTV India. Like us on Facebook or follow us on Twitter and Instagram for latest news and live news updates.