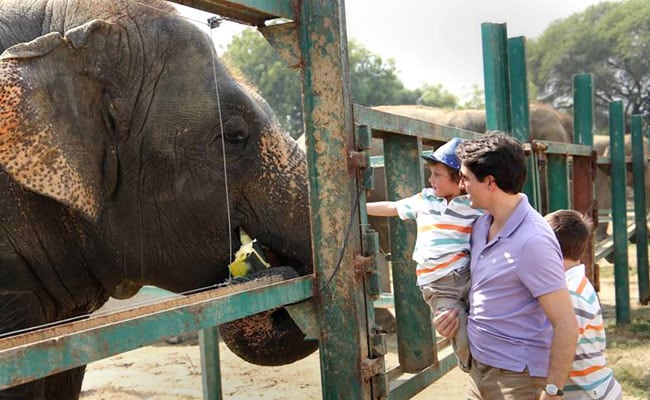 New Delhi:
Maya, Bijlee And Lakshmi, the three jumbo residents at Mathura's elephant conservation centre caught the imagination of Canada's first family on Sunday. The Prime Minister of Canada, Justin Trudeau along with his wife and three children were at the sanctuary on their second day of India visit.
Prime Minister Trudeau was moved after hearing the story of Maya, Bijlee and Laksmi, who were tortured before being spotted and brought to the Mathura Wildlife SOS Elephant Conservation and Care Centre, in Uttar Pradesh.
The elephants, part of circus animal crew, were used as begging tools by their trainers. Seeing injury marks, Mr Trudeau asked the caregivers what happened to the elephants. The caregivers narrated that Maya, Bijlee and Lakshmi have been brought from different parts of the country.
Maya had lost her vision in one eye during shows at a circus; her trainers used to beat her and force her to perform. She still has deep injury marks on her head.
Bijlee, who was rescued from Agra, also has injury marks on her head. She was reportedly forced to walk for hours for "begging" and was in a bad shape when brought to the Mathura conservation centre, said her caregivers.
Lakshmi was brought from Maharashtra where, like Bijlee, she was forced to walk and used as a begging tool. Lakshmi too has deep injury marks on her head and trunk and was part of a circus earlier.
Mr Trudeau and his family spent around 50 minutes at the Mathura elephant care centre. The conservation team spoke to Mr Trudeau about the need to create awareness about the plight of Asian elephants.
"It is a great honour for Wildlife SOS to have the Canadian Prime Minister Justin Trudeau sparing his valuable time to see our efforts to protect elephants in collaboration with Forest Department. Our goal is to help conserve and protect elephants," said Mr Satyanarayan, one of the founders of the centre. Since the elephant care centre does not not attract too many tourists, he hoped Mr Trudeau's visit will encourage people to visit the gentle jumbos.