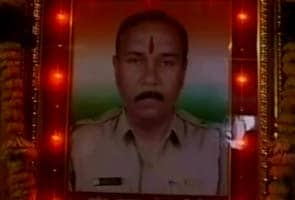 Mumbai:
Late in the night of 26/11, 2008, Constable Tukaram Ombale caught up with the police car that
Mohammed Ajmal Amir Kasab
and his fellow terrorist Ismail had hijacked after shooting at three senior cops and a killng spree at the Chhatrapati Shivaji Terminus in Mumbai.
Mr Ombale was unarmed, but he grappled with Kasab and held on his rifle allowing others to arrest him. Kasab fired several rounds before his arrest and the constable died of bullet wounds.
Ajmal Kasab was the only terrorist caught alive; 10 men had sailed from Pakistan and entered Mumbai to attack predetermined targets. Heavily armed, they ran rampage through Mumbai over three days, killing 166 people.
Kasab and Ismail attacked the CST station killing 52 people and wounding more than 100. The police car they escaped in had a flat tyre in Girgaum Chowpatty when Mr Ombale caught up with them. He was awarded an Ashoka Chakra psothumously for his valour.
After the Supreme Court upheld Kasab's death sentence this year, his daughter said, "My father's sacrifice has paid off." An emotional Vaishali Ombale had said then that Kasab's execution should not be delayed as in the case Afzal Guru, who was sentenced to death in 2001 Parliament attack case.