Thiruvananthapuram:
Tears rolling down their cheeks, little boys between five and 12 are desperate to be freed so that they can be with their mothers on the other side of the tall iron gates at the Attukal temple in Kerala. There was panic and chaos after thick smoke enveloped the temple courtyard where women were offering
pongala
or the sweet rice to Attukal Devi, often referred to as women's Sabarimala.
Around a thousand boys in white thin loin cloth were crammed inside an over-crowded enclosure, waiting to be pierced with iron rings during the
Kuthiyottam
on Friday evening.
Kuthiyottam
, a ritual performed on the last day of the 9-day festival, has become controversial, with Kerala's Director General of Prisons, R Sreelekha, calling it cruelty to children.
At the temple this morning, worried parents were waiting outside the smoke-filled enclosure, shouting at the temple authorities, to let the boys who were breathless, out for sometime but their requests fall on deaf ears until police intervened and took the children out for a while.
"Smoke from the
pongala
has filled the area; our children are feeling breathless", said one of the mothers, clutching the iron rods of the gate.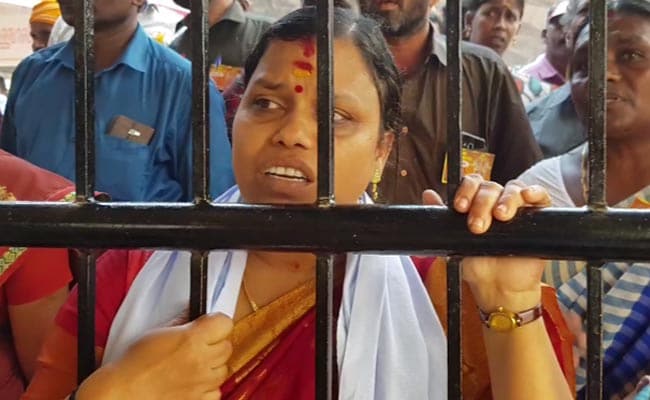 Temple authorities have kept the boys, who are visibly disturbed, inside a room. Some of them are crying for water but no one is listening.
Every day, for the last six days, around a thousand boys walk out of the Attukal temple, in a line, for the ceremonial dip - some wave and smile at their parents, waiting to catch a glimpse, while others burst into tears. As part of the ritual, children are not allowed to stay with their parents for seven days.
"My eight year old son cried after seeing me. He asked when I will see him next. He asks me the same question everyday", says Remya R whose son is living at the temple for one week.
Hundreds of parents line up outside the Attukal temple four times a day, to see their sons, who are 'offered' by them as the soldiers of the goddess. The boys have to live in the temple, away from their families, while they are prepared for
Kuthiyottam.
"As a mother, I feel it may be painful but it's a small piercing...we all pierce our noses and ears and this practice is going on for generations so it should carry on," said Priyanka Sailesh, a businesswoman.
Kerala's first serving woman DGP, in a scathing blog had criticised the ritual for cruelty towards children and refused to offer pongala this year. She equated the ritual to animal sacrifice. In her blog she wrote, "All the boys in wet loin cloth bore the same look of the sacrificial goats of Kamakhya." Ms Sreelekha told NDTV, "I came to know of this because my personal security officer's son was involved in it. When I got to know they were pierced, I was shocked because I used to think it was only symbolic. After I investigated this for 11 months, I found this to be true. The boys are tortured as an iron ring is inserted into their flesh. They cry and scream. They are not allowed to sleep that night."
The child rights panel took up the issue immediately and asked the government for details of different temples that practice the piercing ritual.