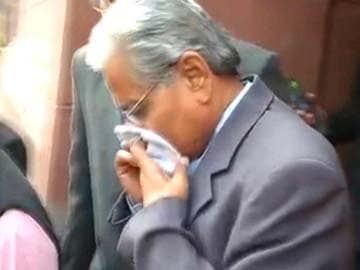 New Delhi:
A parliamentarian used pepper spray in the Lok Sabha and another flung a computer, in unprecedented clashes in Parliament over the controversial bill to create Telangana by dividing Andhra Pradesh. The government claimed that the bill was introduced in the house, but the BJP refuted it.
17 MPs from Andhra Pradesh were suspended for today's violence in Parliament.
MPs for and against Telangana were fighting near the Speaker's seat when Congress member L Rajagopal, 53, took out pepper spray and aimed it around the house, causing an instant and severe bout of coughing among MPs.
A doctor was rushed in, some MPs were taken to a nearby hospital and the vast Lok Sabha had to be aired out. Lawmakers were seen rushing out coughing, holding handkerchiefs and their eyes streaming.
"This has shamed us. What has happened...it is a blot," said Speaker Meira Kumar, who went home feeling unwell. Gas masks were brought in for MPs to use when the Lok Sabha reconvened.
MPs are never frisked when they enter Parliament but today's incident has spurred calls for a change in rules.
"I am told that pepper powder and other weapons were brought into the house," Parliamentary Affairs Minister Kamal Nath said.
Venugopal Reddy, an MP from the Telugu Desam Party, denied waving a knife but he did pull out a mic.
Mr Rajagopal is one of the six MPs expelled by the Congress for moving a no-confidence motion against the Prime Minister over the Telangana plan. These lawmakers are from Seemandhra, the non-Telangana region that is vehemently opposed to the new state.
Constitutional expert Rajiv Dhawan remarked, "Pepper spray is for women to protect themselves, not for MPs."
Since morning, fire extinguishers and blankets had been kept ready in Parliament after another Seemandhra MP, Sabbam Hari, allegedly threatened to set himself afire.
On Wednesday, when MPs nearly attacked each other in the Lok Sabha, the Prime Minister said, "My heart bleeds to see what is happening in the House."