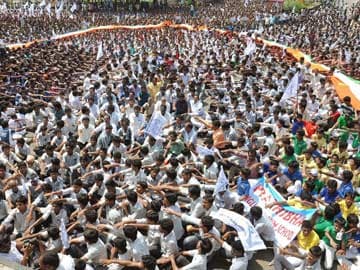 New Delhi:
President Pranab Mukherjee has reportedly given the Andhra Pradesh assembly six weeks to discuss a Bill for the creation of Telangana but any dissent from the state will be no more than a formality for the Centre.
The Bill will not be put to vote; the MLAs can only express dissent while giving a sense of the house. The Bill will then be taken up in Parliament.
The state assembly starts a seven-day winter session today, but sources say there may be a possibility of the short session being extended for the Telangana discussions.
The President had earlier sought legal opinion as he wanted the bill, which provides for creation of Telangana by bifurcating Andhra Pradesh, to be legally sound before sending it to the state assembly for approval.
The Bill has already seen a virtual revolt from the state Congress' own Chief Minister N Kiran Kumar Reddy who had said recently during a public rally that he would not allow Andhra Pradesh to be divided. "We will see how the Bill is passed in Parliament. United Andhra Pradesh is not just a slogan, it's our policy," Mr Reddy had said.
The Union Cabinet had on December 5 given the go-ahead for the creation of a 10-district Telangana with the rest of Andhra Pradesh consisting of 13 districts. Hyderabad will remain the common capital for both the states for a period not exceeding 10 years.
The Governor of Telangana will have a special responsibility for security of life, liberty and property of all those who reside in the common capital area. The Governor may be assisted by two advisers to be appointed by the Centre.