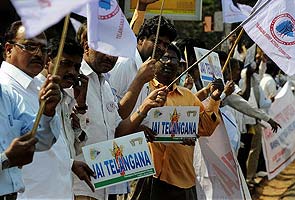 New Delhi:
The government has given its nod to the Telangana region of Andhra Pradesh becoming India's 29th state.
(Read)
The government's timeline for the creation of the new state involves an elaborate process, which has been allotted a 122 days, or at least four months:
The decision to carve out Telangana will be referred to the Andhra Pradesh legislature for a resolution.
The Union Home Ministry will then refer the proposal to the cabinet, which will appoint a group of ministers to address concerns of the three regions - Telangana, Seemandhra and Rayalaseema - on sharing water, land, electricity and revenue.
The ministerial panel will then ask the Law Ministry to draft legislation, which will be sent to the Andhra Pradesh assembly and the Home Ministry for comments.

The Bill cleared by the Cabinet will go to the President, who will forward it to Parliament.

Both Houses of Parliament will have to then pass legislation by simple majority for the creation of a separate state. After the President's assent to the Bill, Telangana will come into being.
The five-decade struggle for a Telangana state was forced onto the contemporary national agenda in 2009 by the Telangana Rashtra Samithi or TRS, headed by K Chandrasekhara Rao. He fasted for 10 days, triggering huge rallies of support.
In response, in December 2009, in a surprise announcement, the Centre said it was sanctioning statehood. But within days, the government backtracked as violent protests erupted in the other two regions-Coastal Andhra Pradesh and Rayalaseema.