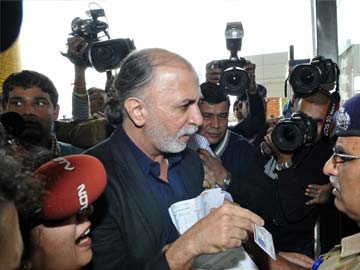 Goa:
Tarun Tejpal's lawyers sought bail for him by saying that "He is not running away, will face the trial." Tehelka founder Tarun Tejpal, accused of rape, has argued that the case against him is a political conspiracy, and that the delay in filing the complaint by a young woman reporter suggests it's inauthentic.
Mr Tejpal landed in Goa a short while ago and he has 'allowed' to come to court
Here are some of the arguments that have been put forth by Mr Tejpal's counsel in a Goa court where his bail application is being heard
Allegations post-facto, were made after 11 days
Police violating principles of natural justice
Why didn't Goa Police give us 2-3 days to come?
Police have done a pre-trial conviction on Tarun Tejpal
New rape law is draconian
The two people were known to each other.

She has 4-5 years experience and is 28 years old.

They were attending social functions and living separately.

The CCTV footage will exonerate me (Tejpal) completely. We want to see before and after the event. (The judge has denied this request)
She even went to the beach next (sic). Not to cast aspersions but there can be vested reasons for attack on a person with seniority.
Is her conduct normal? (the judge says conduct of the victim isn't important at this stage)

The email sent to Shoma Chaudhury was also an after thought.
Reporter's email of complaint is 'fabricated", people in the media always "embellish words
Judge slams Tejpal's counsel for naming the woman in court, says," Are we trying to malign her. This is not a minor mistake."