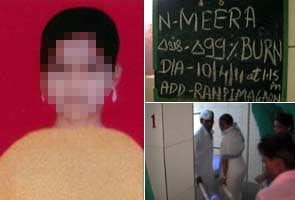 Mumbai:
The 16-year-old girl who set herself on fire after she was raped repeatedly for six days by her father's ex-employer and his aides, died in a hospital in Maharashtra today.
Her father had worked for Babulal Rasal for two years as a farm hand; he had recently managed to pay off Babulal's loan, which allowed him the freedom to find a new job.
The police believes that Babulal couldn't stomach the fact that the victim's father had been able to break what is usually an endless circle of loan and debt. In revenge, he kidnapped his worker's daughter and raped her for six days.
Babulal and his men allegedly moved the victim between three different small lodges, where they raped her.
On the seventh day, when Babulal decided he had punished her enough, he dropped her off outside her home. A day later, she set herself on fire and sustained over 90 percent burns.
The key accused Babulal and his friend Narayan Kale were arrested.