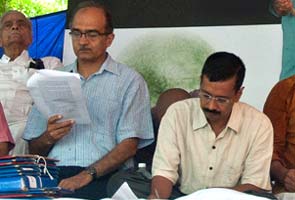 New Delhi:
Team Anna member Arvind Kejriwal has recovered after he fell ill due to drop in his blood sugar level during his fast agitation today at Jantar Mantar in Delhi. Mr Kejriwal has been on the fast since yesterday.
In the medical bulletin in the evening, the doctors attending declared Mr Kejriwal's blood pressure and sugar level to be normal. His blood pressure was recorded at 103/64, pulse rate at 72 and sugar level at 96 mg. Three doctors from Ram Manohar Lohia hospital attended to Mr Kejriwal.
The other Team Anna members, who are fasting along with Mr Kejriwal, Manish Sisodia and Gopal Rai's health was also declared to be normal.
Team Anna's hunger strike against the alleged corruption within the government and to push for the anti-graft Lokpal Bill is led by Arvind Kejriwal. Anna, 75, too will begin fasting on Sunday, despite the advice of doctors who say he should not join the hunger strike.