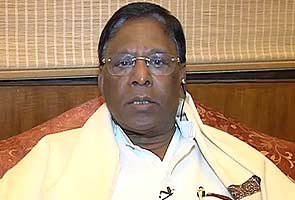 New Delhi:
An audio tape purported to be of union minister V Narayanasamy suggests that he did indeed make the comments that fomented a new controversy around the national auditor or CAG, whose reports have led to embarrassing allegations of graft for the government.
Yesterday, the Press Trust of India (PTI) said that the minister had disclosed that the government is actively considering converting the office of the CAG or Comptroller and Auditor General into a committee with three members. Mr Narayanasamy said he had been misquoted. Those claims are incorrect, according to audio tapes of his purported conversation with the news agency, which were accessed today by NDTV.
(Hear the audio)
Mr Narayanasamy is Minister of State in the Prime Minister's Office. He has not challenged the veracity of the tapes.
His comments have led to allegations by the opposition and anti-corruption campaigner Arvind Kejriwal that the government is hunting for ways to undermine the power of the CAG or Comptroller and Auditor General (CAG).
"The government wants to make CAG its agent," said Mr Kejriwal, whose new political party will be christened on the 26th of this month.
"The Congress has a track record of destroying institutions," said the BJP's Venkaiah Naidu.
"I don't think government will take institutional measures based on the activities of a person", said Congress spokesperson Sandeep Dikshit when asked whether the government was contemplating making CAG a multi-member body in view of allegations by the party accusing the national auditor of "going beyond the mandate" in reports on 2G and allocation of coal block.
Vinod Rai, the CAG, has clashed often and publicly with the government, which has challenged his calculations that the country lost Rs 1.76 lakh crore through faulty telecom policy, and another Rs 1.86 lakh crore from the opaque allocation of coal blocks.
Last week, Mr Rai said at a session of the World Economic Forum in Gurgaon that the government had been showing "appalling brazenness" in policy-making, but that legislation like the Right to Information Act was delivering more and much-needed transparency.
Mr Rai also said that like his office, which is a constitutional body making it accountable to Parliament and not the government, the country's premier investigating agency, the CBI, and the government's anti-corruption watchdog, the Central Vigilance Commission, must be made independent of the government - else, he said, they will continue to function as "the hand-maidens" of the government.
Congress leader Digvijaya Singh sarcastically thanked Mr Rai for his insight and asked why he has been unable to stop his reports from being leaked to the media before they are presented to Parliament.