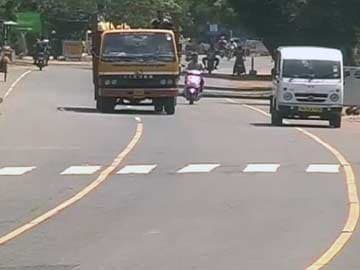 Chennai:
After 16,000 people lost their lives in accidents across Tamil Nadu last year, the government has finally decided to take some measures to enhance road safety.
The first step will be implementing state-of-the-art features on the arterial East Coast Road that connects Chennai with Mamallapuram and Puducherry, in a project monitored by the World Bank.
The scenic highway today handles four times the traffic it was originally designed for.
Once dubbed Chennai's 'entertainment corridor' thanks to the many hotspots dotting this road, it has now turned into a virtual death trap, with 7,000 accidents recorded on this stretch last year alone. (
India's Killer Roads: Finding Solutions
)
Sharp curves, poor signboards and flaws in road design have made it a dangerous highway.
The authorities are planning to take a number of ambitious steps, along the lines of the ones followed in Australia, to drastically reduce the number of road accidents.
Installing cameras to spot cases of drunken driving, safety rollers at vulnerable points to absorb the shock of an impact, deploying a bus carrying equipment to check alcohol levels of the drivers, putting up clear signboards and providing crucial trauma care are some of the steps planned by the state government.
If the pilot project on East Coast Road shows good results, the state government, officials say, will replicate it across the state.
Families of road accident victims have been urging the state government to make road safety their top priority for years.
Patricia Narayan, a resident of Chennai, lost four members of her family in a terrible accident.
They were killed by a truck driving on the wrong side of the highway. Her newly-married daughter Sandara and son-in law Vinu were among the victims.
"There was no ambulance. They were lying there for two hours. That's the state we were in. I have launched an ambulance service at the same spot, that's something I could do," she says.
Get Breaking news, live coverage, and Latest News from India and around the world on NDTV.com. Catch all the Live TV action on NDTV 24x7 and NDTV India. Like us on Facebook or follow us on Twitter and Instagram for latest news and live news updates.