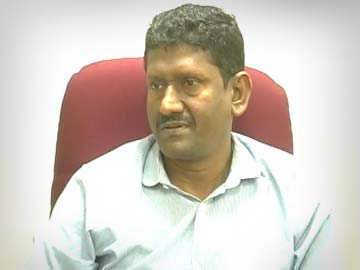 Chennai:
A senior IAS officer in Tamil Nadu was transferred twice in 48 hours, allegedly for taking on a state minister.
U Sagayam, who was chief of state-run weavers' cooperative society Co-optex for two years, was first transferred last Wednesday as Commissioner of Indian Medicine and Homeopathy. Two days later, he was shifted again as Vice Chairman of Science City.
Government sources say the officer was targeted for his run-ins with Textile Minister S Gokul Indira.
The minister allegedly forced a Co-optex worker to withdraw a police complaint after being beaten by workers of the state's ruling AIADMK..
In the latest row, Mr Sagayam reportedly refused to give the minister office space in the Co-optex headquarters, saying it would affect the department's functioning and vitiate the atmosphere. He instead offered his own office, saying she could use it whenever she wanted.
The officer reportedly also wrote to the state's topmost bureaucrat, the Chief Secretary, alleging interference by the minister and asked for an inquiry.
Gokula Indira sought to downplay the unusual transfers in quick succession, and said, "It is a routine transfer. Why are you exaggerating?"
Known for his clean record, Mr Sagayam, 52, has reportedly been transferred 24 times in 23 years, inspiring comparisons to IAS officer Ashok Khemka, who alleged that he was victimized in Congress-ruled Haryana for cancelling a land deal involving Sonia Gandhi's son-in-law Robert Vadra.
Mr Sagayan earned a reputation as an anti-corruption crusader after reportedly exposing tax irregularities in granite mining when he was posted as collector in the Madurai district.