New Delhi:
After sweeping Himachal Pradesh, the BJP now finds itself
looking for a man for the top job
. Prem Kumar Dhumal, who was the rare Chief Ministerial face projected by the BJP, was defeated, which means even before celebrating, the party has to search for a new general in the hill state. Top leaders held a meeting till late last night.
Union Health Minister JP Nadda and senior BJP leader Jai Ram Thakur are in the race for Himachal Chief Minister.
Should the BJP want to stick with Mr Dhumal, it has an offer from a three-time lawmaker. Virender Kumar, elected again from the Kutlehar constituency, has offered to vacate his seat for Mr Dhumal, say sources.
But many believe the 73-year-old Mr Dhumal -- only two years away from the BJP's so-called retirement age -- has had his chance. His choice was to help the party gain the support of the upper castes -- Brahmins and Rajputs -- but
unexpectedly for the party, he lost
.
Mr Nadda, 57, who has been General Secretary of the party and is seen as a capable troubleshooter, had always been in the race for Himachal Chief Minister. A three-time Himachal lawmaker, he was a minister in the state in the past.
His competition Jai Ram Thakur, 52, a five-time lawmaker, is the party's face from Mandi. Soon after Mr Dhumal conceded defeat yesterday, Jai Ram Thakur took a flight to Shimla.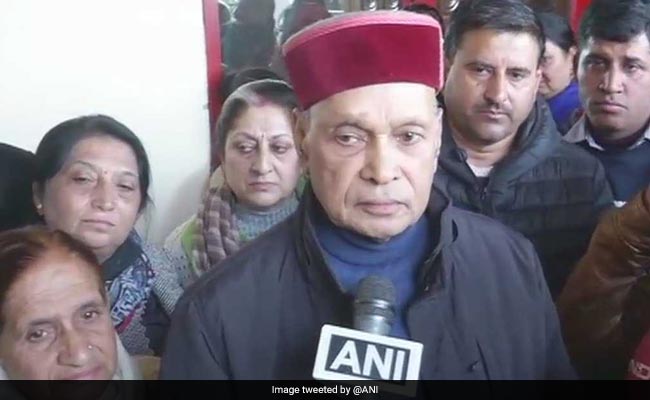 Mr Dhumal's son Anurag Thakur, one of the BJP's most prominent young leaders, is also believed to be one of the names being considered.
BJP chief Amit Shah said on Monday that the parliamentary board, which is the party's highest decision making body, would decide on who would be Himachal chief minister. With 44 seats, the BJP has won almost a two-thirds majority in the 68-member Himachal assembly, besides
raising its tally of states to 16
.
Mr Dhumal, in a vote count that went on till past midnight, lost to his Congress opponent Rajendra Singh Rana in Sujanpur.
By announcing Mr Dhumal as its presumptive chief minister, the BJP broke from its strategy of projecting only Prime Minister Narendra Modi to seek votes.
At the age of 73 years, Mr Dhumal is a decade younger than Congress's Virbhadra Singh, a six-term Chief Minister who lost power yesterday. Since 1998, the two have taken turns at the Chief Minister's post.
Get Breaking news, live coverage, and Latest News from India and around the world on NDTV.com. Catch all the Live TV action on NDTV 24x7 and NDTV India. Like us on Facebook or follow us on Twitter and Instagram for latest news and live news updates.