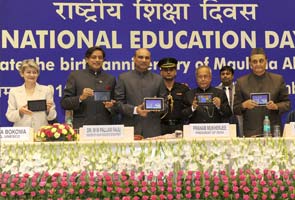 India's ambitious project to build low-priced tablet computers for university students was praised by the government as a "milestone in history" to be "recognized by future generations" - in part because the tablet, called Aakash, was going to be made in India.
But many of the most current versions of the tablet, Aakash-2, which was unveiled Nov. 11 by President Pranab Mukherjee of India, have been designed and manufactured in China, according to officials at Chinese companies and documents reviewed by The New York Times.
DataWind, the London-based company that won a government contract to produce the first 100,000 Aakash tablets, "does only sales," said Li Junhao, president of Trend Grace, a company based in Shenzhen, China, that is one of several Chinese manufacturers making Aakash-2 tablets, according to invoices sent to DataWind that were reviewed by The Times.
"The tablets we sell to DataWind are ready to be sold," Li said in a telephone interview. "They are finished, ready-to-use products. All parts are made in China. We buy the touch screen from a Chinese manufacturer and make the rest of the parts ourselves. We then assemble the tablets into finished products."
Executives from two other Chinese companies said in interviews that they also assembled Aakash-2 tablets in China.
The Aakash project has been marred by delays, controversy and infighting for more than a year. Its original premise - that India could make a durable tablet computer for the country's millions of students for less than $50 a device - has become something of a matter of national pride for residents and pro-India boosters around the world.
The fact that the Aakash-2 is actually, at least for now, coming from China is likely to embarrass political leaders and deals a blow to India's efforts to position itself as a world leader in cheap innovation.
Suneet Singh Tuli, chief executive of DataWind, which is run principally from Canada, said in an emailed response to questions Saturday that some of Aakash's components were made in China, but that the assembly and product design were not handled there.
"The current Aakash-2 product is designed by us," Tuli said in the email response. He said the touch screen of the tablet was being manufactured at DataWind's facility in Montreal and that his company had designed the software, mechanical parts and motherboard.
However, for an initial shipment of 10,000 Aakash-2 tablets sent recently to the Indian Institute of Technology Bombay, the components were largely made in China, Tuli said. "For expediency sake, we had the motherboards and kits manufactured in our
Chinese subcontractor's facilities, and then the units have been 'kitted' in China at various manufacturers," he said.
The assembly and programming of the units was done at DataWind's facility in Amritsar, India, and at a Delhi office, he said Monday.
Each tablet will cost the government 2,263 rupees, or about $42, and students will get a version that is subsidized by 50 percent, the government has promised.
IIT Bombay, the university spearheading the project in India, said DataWind had a contractual obligation to deliver the entire batch of 100,000 tablets by Dec. 31.
The Times reviewed invoices from four Chinese companies, drawn between Oct. 26 and Nov. 7, related to the purchase of "A13" tablet computers by DataWind Innovations in India. The total number of tablets ordered from the four companies was 11,000, at a cost of about $42 a unit.
A reporter in Beijing contacted the four Chinese companies listed on the invoices addressed to DataWind. Three - Trend Grace, Kalong Technology and Dasen International Electronics - confirmed that they had manufactured tablets for DataWind. The fourth company, Shenzhen Shitong Zhaoli Technology, did not respond to repeated requests for comment.
The four Indian subcontractors of DataWind have made few if any tablets.
VMC Systems, in Secunderabad, Andhra Pradesh, which has been working with DataWind since late last year, confirmed that it was manufacturing tablets for the company but did not provide any further information. The first few hundred tablets DataWind shipped to IIT Bombay this year were assembled at VMC's plant in India, several people working on the project said.
Digital Circuits, in Bangalore, signed an agreement to produce tablets in August, but the managing director of the company, Subhash Goyal, said it had not produced any so far. Goyal said that his company had no experience manufacturing tablets.
An executive from another subcontractor based in Noida, on the outskirts of Delhi, said his company had not yet started production, but planned to ship a few thousand tablets to DataWind next month and then ramp up. Vinyas Innovative Technology, in Mysore, said that it was producing tablets for DataWind. A marketing executive from the company said he did not have the authority to say if any tablets had been shipped to DataWind from their plant.
© 2012, The New York Times News Service