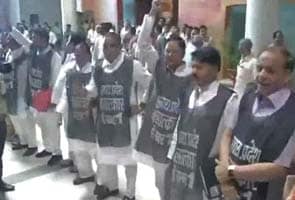 Bhopal:
The Assembly in Madhya Pradesh is in complete disarray with demands of resignation of the state Home Minister after the shocking gang-rape of a Swiss tourist in Datia district on Friday.
The 39-year-old woman was out on a cycling trip with her husband and camping out at night, close to a forested area. There, they were attacked by six men who overpowered them, gang-raped her, assaulted her husband and then robbed them. The Madhya Pradesh Police arrested six men in connection with the case yesterday and also recovered the laptop and mobile phone of the Swiss woman from them.
The opposition is not only blaming Uma Shankar Gupta, the state Home Minister, for this horrific incident but also for his comment yesterday, which in a way, shifts the onus of the responsibility of ensuring security of tourists on the tourists themselves.
"I think it is very unfortunate that such an incident happened in the state and the country. We must see what we can do to stop such incidents... The foreign tourists that come here must inform the police of their activities. That way such incidents can be kept in check," Mr Gupta had said yesterday.
The assembly was adjourned for the day after Congress members, dressed in black clothes which had a caption 'MP number one in rape cases', shouted slogans against the government.
Not just a political storm, the incident has also affected tourists. A group of American tourism, who just landed at the Bhopal Railway Station, will be visiting the exact spots that the Swiss couple had been to.
"That's like blaming a victim for a crime and that is not right. I think it is not the victim that is the problem, it is not the tourist that is the problem. The problem is trying to figure out why this is happening, there are a lot of rapes happening in India. What's going on with that? It is all over the international news," said Nancy, a tourist on hearing the state home minister's statement.
But some tourists feel that the situation is same everywhere for a female tourist. Claude Van Leeuwen, a French tourist, is travelling with her sister and has come to India for the first time. For her, security of tourists is a shared responsibility and informing the police about their movements just won't work.
"I don't think it is possible to fix a plan and stick with it, and for the police to be present everywhere. But yes there are certain things I won't even do in my country, and am careful that I don't do the same here as well," said Ms Leeuwen.
So far this year, there have been two rapes of foreign tourists in Madhya Pradesh. Chief Minister Shivraj Singh Chouhan says the state is devising a mechanism to know where the foreigners are going so that such incidents don't happen. But for a country which is about to bring out an anti-rape law following the growing outrage against rising number of rapes, this may be sending out a wrong message to tourists which will certainly dent the country's image internationally.
Get the latest election news, live updates and election schedule for Lok Sabha Elections 2019 on ndtv.com/elections. Like us on Facebook or follow us on Twitter and Instagram for updates from each of the 543 parliamentary seats for the 2019 Indian general elections.