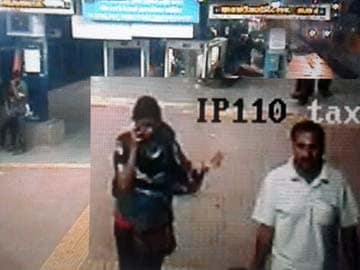 Mumbai:
23-year-old software professional Esther Anuhya was allegedly attacked with a stone and strangled with her own scarf by a man who wanted to steal her suitcase, the Mumbai police said after arresting a suspect nearly two months after the sensational murder.
Chandra Bhan Sanap or Choukya, 28, was spotted on CCTV footage walking with Esther before she went missing on January 5 from a station near Mumbai.
The young TCS employee's decomposed and burnt body was found 11 days later, in a swamp near a major highway on the outskirts of Mumbai.
The police say the accused, who has a criminal record, came to the Kurla station with intent to rob after a long night of drinking. He spotted Esther, who had just arrived from Machilipatnam in Andhra Pradesh after a holiday with her family and allegedly offered to take her to her home in Andheri, Mumbai, for Rs 300. But when they went to the parking lot, Esther realized that the man did not have an autorickshaw or a taxi, just a motorcycle.
When she resisted, Choukya allegedly persuaded her to get on the bike. She reportedly had no airtime left on her phone and pretended to make a few calls as she felt nervous.
Choukya allegedly took her off the road, beat her, bashed her head in with a stone and strangled her before running away with her suitcase. He allegedly called the friend whose motorcycle he had borrowed and blurted out his crime.
Later, he allegedly returned to Nashik, dragging Esther's bag that he gave away to a beggar. The bag was recovered by the police later.
According to the police, Choukya hid in his home about seven km from Nashik, changed his appearance and grew a beard.
After scouring CCTV footage, the police reportedly learned about Choukya from people near the station. The police reportedly also tracked down the friend he had confided in, Nandkishore Sahu from Jharkhand.
Nine police teams were formed, over 2,500 people were questioned and footage from 36 CCTVs was examined before the police zeroed in on Choukya.
Choukya last worked as a driver with a Nasik-based travel firm, and reportedly lived with his third wife and a fourteen-month old child.