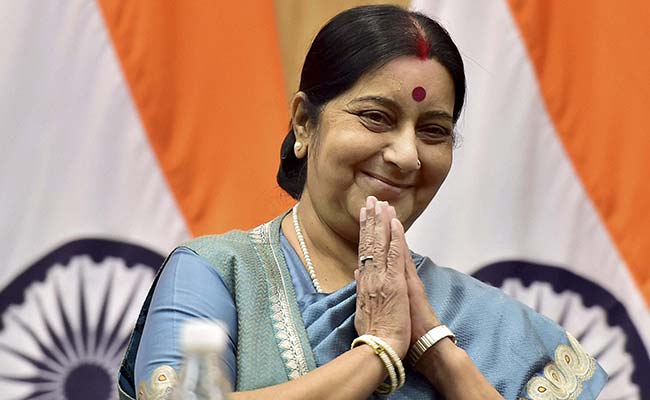 First there was the icebreaker in Paris between Prime Minister Narendra Modi and his Pakistani counterpart Nawaz Sharif. Then the thaw in Bangkok with the National Security Adviser level talks. And now, Foreign Minister Sushma Swaraj is leaving for Islamabad today to attend a conference on Afghanistan.
The minister will meet her Pakistani counterpart Sartaj Aziz and call on Mr Sharif.
"It is too early to say what the result of our mutual dialogue will be," Mr Aziz told the media in Islamabad on Monday. "For this you will have to wait for two more days, but it is a good start. The deadlock on negotiations has been lifted to some point, and we have to hope that the talks continue."
The Congress has attacked the government for the secrecy surrounding Sunday's Bangkok meeting between National Security Advisor Ajit Doval and his Pakistani counterpart Nasir Janjua. Ms Swaraj may make a statement in Parliament when she returns from Pakistan.
"There was a meeting too between NaMo and Nawaz Sharif at the climate change talk," Congress' Anand Sharma told Rajya Sabha. "Yesterday, the NSA advisers met along with foreign ministers... Parliament should have been informed and still should be informed regarding the whole matter. "
"I don't want to make any comment on issues related to external affairs," said Union minister Venkaiah Naidu. "These are sensitive matters. As and when necessary, they can be taken up in Parliament in course of time. The Congress has a lot of experience, they have been dealing with this for years, so they can make any statement they like."
Sources told NDTV that the dialogue between the two countries could pave the way for a visit by PM Modi to Pakistan late next year for the SAARC summit. The summit will be called off if one country doesn't attend.
The secret NSA talks on Sunday found a way to articulate the concern of both countries. So Jammu and Kashmir was discussed and put in the joint statement -- its absence had caused a huge uproar in Pakistan last time. Indian officials insisted that the reference to Jammu and Kashmir was only in the context of security.
The NSAs will meet again soon, but in keeping with the new policy of staying away from the media spotlight. No detail will be shared till it happens.