Riyadh:
External Affairs Minister Sushma Swaraj today met Saudi King Salman bin Abdulaziz and discussed steps to further intensify the bilateral strategic partnership in all sectors and to work towards each other's progress.
Sushma Swaraj, who arrived in Riyadh on Tuesday on her
maiden visit to Saudi Arabia
, called on King Salman.
"Steps to further intensify our strategic partnership in all sectors and to work together towards each other's progress came up during warm discussion," MEA spokesperson Raveesh Kumar tweeted.
Earlier, Ms Swaraj
met her Saudi counterpart
Adel al-Jubeir and discussed ways to enhance bilateral trade, energy, defence and security ties.
Raveesh Kumar said the discussions between the two leaders focused on enhancing trade and investment, energy, defence and security, culture and people-to-people ties.
The two leaders also discussed the regional and global situation, Mr Kumar said.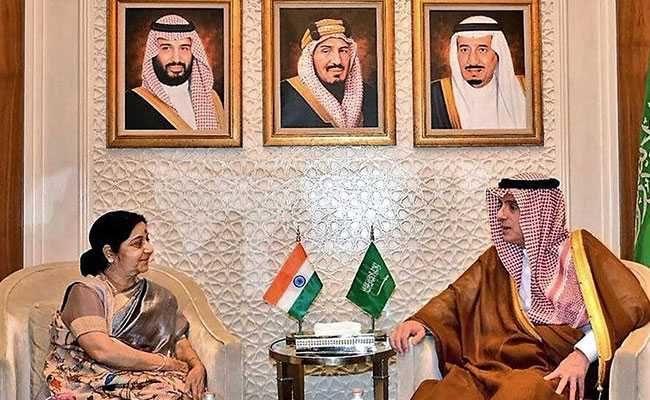 A welcome sign in Hindi appreciating India's rich cultural heritage was placed at the Foreign Ministry building where Adel Jubeir hosted a lunch in honour of Ms Swaraj.
Sushma Swaraj will also inaugurate the prestigious National Heritage and Culture Festival 'Janadriyah', at which India is the guest of honour country.
The festival, organised by the National Guard, exhibits Saudi Arabia's rich tapestry of culture and heritage.
Sushma Swaraj thanked the Saudi government for according the 'Guest of Honour' status to India at the Janadriyah festival.
Last evening, Ms Swaraj addressed the Indian community members at a reception here and spoke in length about the growing relations between the two countries, Mr Kumar said.
Sushma Swaraj thanked the Indian community for the goodwill it has earned for the country and lauded the Indian embassy for its promptness.
Saudi Arabia is home to more than 3 million Indian people and ties between the two countries are on an upswing in the last few years especially after the landmark visit of Prime Minister Narendra Modi to the Gulf Kingdom in April 2016.
Saudi Arabia is India's fourth largest trade partner after China, the US and the UAE. The country is a major source of India's energy requirement as it accounts for almost one- fifth of India's crude oil requirement.
The volume of bilateral trade during 2016-17 was recorded at USD 25.079 billion, a slight decrease from the USD 26.71 billion in 2015-16.
Get Breaking news, live coverage, and Latest News from India and around the world on NDTV.com. Catch all the Live TV action on NDTV 24x7 and NDTV India. Like us on Facebook or follow us on Twitter and Instagram for latest news and live news updates.