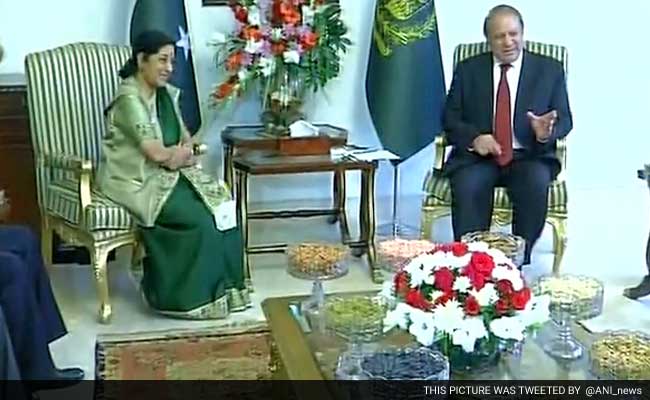 Islamabad:
Foreign Minister Sushma Swaraj today met Pakistan Prime Minister Nawaz Sharif in Islamabad amid efforts by both countries to improve ties.
"The External Affairs Minister conveyed to Prime Minister Sharif India's commitment to good neighbourly relations," foreign ministry spokesperson Vikas Swarup said.
Ms Swaraj also met her Pakistani counterpart Sartaj Aziz.
Earlier today at the 'Heart of Asia Summit', she said it was time that India and Pakistan displayed "maturity" in doing business with each other.
"It is time we display maturity and self-confidence to do business with each other and strengthen regional trade and cooperation," Ms Swaraj said.
Ms Swaraj also pushed for Pakistan to allow the transit of goods from Afghanistan to India through its territory.
"The heart of Asia cannot function if its arteries are clogged. India's vision for Afghanistan is one of interlinked trade, transit, energy and communication routes with the country as an important hub," said the minister.
She added that on "our part, India is prepared to move our cooperation at a pace which Pakistan is comfortable with. But today, let us at least resolve to help Afghanistan - in the best traditions of good neighbourliness."
Ms Swaraj invited foreign ministers from Pakistan, China, Afghanistan and other participating countries in the "Heart of Asia" conference to India for next year's edition.
The first visit by an Indian foreign minister to Pakistan in three years comes as part of a series of events following a surprise meeting between Prime Minister Narendra Modi and Nawaz Sharif in Paris two weeks ago on the sidelines of the climate change conference. That meeting led to secret talks between the National Security Advisors of both countries in Bangkok last week.
India, however, has not given green signal for the resumption of cricketing ties between the two nations, Pakistan Cricket Board chief Shahryar Khan has said. It was expected that the series would go ahead after a meeting between Ms Swaraj and Mr Aziz.