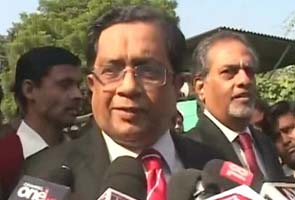 New Delhi:
The decision to appoint PJ Thomas the country's top man in charge of fighting corruption has cost the government dearly.
First the Opposition and then the Supreme Court expressed concern over why Mr Thomas is the best man for the job. He stands accused of corruption himself in a case that goes back to the early 90s when he was a senior bureaucrat in Kerala. As Food Secretary, Mr Thomas campaigned aggressively for the import of edible oil from Malaysia. It later emerged that the price paid for the oil - pamolein - was unjustifiably high.
The Central Vigilance Commissioner (CVC) is selected by a committee made up of the Prime Minister, the Home Minister and the Leader of the Opposition. At a meeting on September 3, 2010, the BJP's Sushma Swaraj placed on record her objections to Mr Thomas' candidacy. The government over-ruled her, and Mr Thomas was promoted.
Since then, his appointment has been challenged in the Supreme Court by different Public Interest Litigation cases. The court will decide on Thursday on whether Mr Thomas can continue in office.
Mr Thomas has repeatedly told the court that the fact that he was promoted over the last few years by the Vigilance Commission proves that the charges against him are incorrect and should not affect his career.
Mr Thomas was privately pressured by the government to resign, but has fought back. That's caused considerable embarrassment for the government which has in the past few months been bruised black and blue by a flood of corruption scandals. Leading that list is the 2G spectrum scam which pushed A Raja from the Telecom Minister's office into jail. Mr Raja stands accused of abusing his position and manipulating government policies to award licences for mobile networks at throwaway prices to companies that rewarded him privately with huge kickbacks.
Mr Thomas was Telecom Secretary till he was made Chief Vigilance Commissioner. The Supreme Court, which is also monitoring the CBI's investigation into the spectrum scam, suggested that it would be inappropriate for Mr Thomas to preside over an inquiry that could subject his own actions in the Telecom Ministry to scrutiny. Mr Thomas then recused himself from the 2G investigation.